Willie's Grill & Icehouse Rolls Out Summer Menu Full of Flavor-Packed Fan Favorites
Press Release
•
May 3, 2023
The Beloved Texas Icehouse Welcomes the Summer Season With Exciting Menu Additions and Refreshed Takes on Savory Classics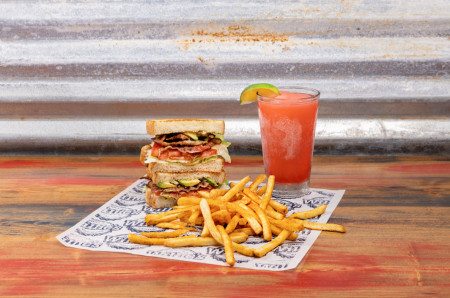 HOUSTON, May 3, 2023 (Newswire.com) - Willie's Grill & Icehouse is kicking off summer in a big way, much to the delight of tried-and-true fans of the Texas restaurant chain. With plans to bring back fan-favorite burgers, Willie's is also rolling out changes to menu items that will pack the same delicious flavor while adding more bang for the customer's buck.
The customers spoke and Willie's listened. Beginning May 3, 2023, the Willie's menu will bring back the Smoked Gouda Burger, consisting of Smoked Gouda Cheese, Garlic-Pepper Bacon, Lettuce, Fried Onion Bites, and BBQ Sauce on a Jalapeno Cheddar Bun. Willie's is also reintroducing the Willie's B.L.T.A.: Garlic-Pepper Bacon, Lettuce, Tomato, Avocado, and Housemade BLT Sauce on two big slices of Texas Toast. The burgers are especially unique, as Willie's takes special care to smoke the bacon used on the burgers in-house. Last but not least, Willie's is bringing back the Spicy Guac Burger, which includes Double Junior Patties, Double Pepper Jack Cheese, Housemade Guacamole, Lettuce, and Seared Jalapenos.
Seafood lovers will rejoice at the new-and-improved Texas-famous Shrimp Campechana at all Willie's locations, also beginning May 3. Piled high with all the same delicious Texas Gulf Shrimp, Fresh Pico de Gallo, Cocktail Sauce, and Avocado, the Shrimp Campechana is now packing an extra punch with even more shrimp. The refreshed take on the Willie's classic will feature a bigger vessel packed with a larger portion of shrimp and a healthy serving of pico de gallo to compliment the increased seafood portion. The appetizer will have more meat without sacrificing that trademark Willie's flavor.
Customers at all Willie's locations will toast to summer with the Watermelon Margarita, a house rita made with Real Watermelon Juice, topped with Dos Rios Blanco Tequila. Willie's team members puree fresh fruit in-house to create the refreshing cocktail, perfect for cooling down during the warmer Texas summer months.
"At Willie's, the customer really does know best," said Greg Lippert, CEO of Willie's Restaurants. "Our team members have told us time and again that our guests miss these mouthwatering burgers, and we figured there was no better time than summer to reintroduce these fan-favorite menu items and to revamp some of our standard offerings as well."
At Willie's Grill & Icehouse, everyone belongs. Started in 1993 as a humble burger joint in Houston, Texas, Willie's has grown into a Texas institution with 19 locations statewide, beloved by millions as the family's favorite place to unwind. At Willie's, arcade games await the kids and young at heart while wide-open giant garage doors reveal ample patio spaces with sandboxes and plenty of room to play and relax. Juicy burgers piled high with fixings anchor the gargantuan menu of delicious Texas comfort food, promising something for everybody. For locations, hours, menus, and more, visit www.williesgrillandicehouse.com.
Source: Willie's Grill & Icehouse