Willie's Grill & Icehouse Now Hiring for More Than 100 Positions at Upcoming Location in Central Texas
Press Release
•
Jun 8, 2023
Willie's Now Taking In-Person Interviews Ahead of Grand Opening in Kyle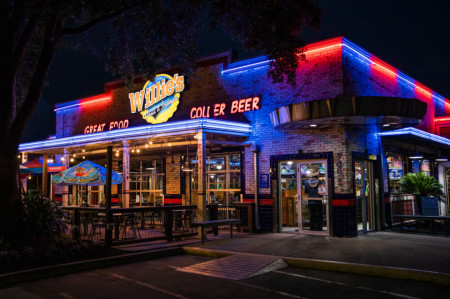 KYLE, Texas, June 8, 2023 (Newswire.com) - Willie's Grill & Icehouse is looking for friendly team players ready to help open the Texas giant's highly anticipated first location in Kyle, Texas. Willie's is currently interviewing candidates for more than 100 positions. The in-person interviews are taking place outside of the brand-new location at 19220 I-35, Kyle, TX 78640. Set to open in July 2023, Willie's Kyle will be the 20th location for the beloved brand.
Willie's Kyle will be the eighth Willie's outpost to feature a full bar, which creates exciting opportunities for bartenders at the location. Other positions will include servers, cooks, counter team members, bussers, and dishwashers. Willie's has developed an innovative service model focusing on efficiency and anticipating guests' needs, which helps to ensure bigger tip pools for servers. Willie's actively promotes and hires from within, believing every position has the potential for long-term career growth.
Interviews are conducted all day, 10 a.m. to 7 p.m. Applicants should make their way to the temporary hiring center, identified by the "Now Hiring" banner outside of the restaurant. Applicants should arrive ready to fill out applications and interview that same day. Candidates can also text "APPLY WILLIES" 85000 to apply and set up an interview.
"We couldn't be more thrilled to bring Willie's Grill & Icehouse to Kyle," said Greg Lippert, CEO of Willie's Restaurants. "In our short time being in Kyle, our team has enjoyed meeting members of the community, connecting with the Chamber of Commerce, and gearing up for what's sure to be a beautiful partnership between the city and Willie's."
Last year was an especially busy season for Willie's, which introduced their brand new loyalty app—complete with freebies and deals for valued customers—in December.
Willie's is Texas' favorite icehouse, where giant retractable garage walls open to reveal spacious open-air patios full of games and plenty of room for relaxing, playing, and enjoying one another. The restaurant's outsized menu includes already-legendary burgers, headline-grabbing sandwiches, crave-worthy tacos, tender ribs, giant chicken fried steaks, and other Texas staples, alongside Willie's signature Frozen Jack & Coke and Willie's Ritas. Since its launch in 1993, Willie's has become an institution, trusted and loved by millions as a family-friendly haven offering genuine fun and flavors for all ages.
AT-A-GLANCE
WHAT: Willie's Grill & Icehouse is hiring more than 100 new team members at its new location in Kyle, set to open in July 2023.
WHEN: Interviews are ongoing daily, 10 a.m. to 7 p.m.
WHERE: 19220 I-35, Kyle, TX 78640
Source: Willie's Grill & Icehouse