Wikileaf Launches New Products to Aid Cannabis Retailers Amid COVID-19 Crisis
Press Release
•
updated: Jun 2, 2020
The products include an online ordering feature and mobile app creation service for retailers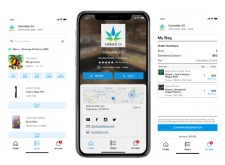 SEATTLE, June 2, 2020 (Newswire.com) - ​​​Wikileaf Technologies Inc. ("Wikileaf" or the "Company") (CSE: WIKI), a leading price comparison platform that helps consumers with finding cannabis strains products and brands, is pleased to announce the launch of two new products: Pro and Premium.
The two new products are part of the Wikileaf Business Suite, an initiative to help support cannabis retail growth in the U.S. and Canada during and after the COVID-19 crisis.
Pro
Pro unlocks the ability for licensed cannabis retailers to facilitate orders through the Wikileaf platform with a feature called Click and Collect.
Instead of requiring users to physically visit a store to place an order, users can now add products to their "bag" and visit a Pro-subscribing retailer to pick up and pay for their items.
In addition to Click and Collect, Pro offers every feature available in Lite, as well as better digital advertisement placements and a medium-sized icon for the platform's "price comparison" map.
At launch, Pro will be available to U.S. and Canadian cannabis retailers at $500 USD per month.
Premium
Premium looks to expand on Pro by giving cannabis retailers more opportunities to differentiate themselves from their competitors with a service called Your Store App.
With Your Store App, Wikileaf will work with Premium subscribers to customize a white-labeled mobile application that is in line with each subscriber's unique needs.
Customers and Wikileaf users will be able to download the app on their Apple or Android devices and browse the retail store's menu, make order reservations, and read store details including store hours and directions.
At an initial price point of $1,000 USD per month, retailers can use the service as a way to differentiate themselves from their competitors while avoiding the exorbitant costs and lengthy development cycles associated with creating their own application from scratch.
Premium subscribers will also receive every feature in Lite and Pro, as well as the highest digital advertisement available on Wikileaf and the largest and most prominent map icon.
Lite
Earlier this year, Wikileaf launched Lite, formerly "Bronze." Lite offers licensed cannabis retailers limited ad space, a web traffic analytics dashboard, and a small map icon on the "price comparison" map.
Lite is currently available to U.S. and Canadian cannabis retailers for $200 USD per month.
Quote
"With the cannabis industry being declared as "essential" by many regional governments amid the COVID-19 pandemic, we believe it is crucial to deliver products that can help support and foster growth for legal cannabis retailers during such a turbulent time. Wikileaf's Pro and Premium will do just that by providing stores more opportunities to increase revenue, improve brand presence, and differentiate themselves from their competition." - Derek Firth, CEO, Wikileaf
About Wikileaf
Wikileaf is a price comparison platform for recreational and medicinal cannabis consumers. Wikileaf provides consumers with instant price comparison among dispensaries in their immediate vicinity.
Forward-Looking Statements
This release contains certain "forward-looking statements" and certain "forward-looking information" as defined under applicable Canadian securities laws. Forward-looking statements and information can generally be identified by the use of forward-looking terminology such as "may", "will", "expect", "intend", "estimate", "anticipate", "believe", "continue", "plans" or similar terminology. Forward-looking statements and information include, but are not limited to, statements with respect to the Company's launch dates and product pricing. Forward-looking statements and information are based on forecasts of future results, estimates of amounts not yet determinable and assumptions that, while believed by management to be reasonable, are inherently subject to significant business, economic and competitive uncertainties and contingencies. Forward-looking statements and information are subject to various known and unknown risks and uncertainties, many of which are beyond the ability of the Company to control or predict, that may cause the Company's actual results, performance or achievements to be materially different from those expressed or implied thereby, and are developed based on assumptions about such risks, uncertainties and other factors set out herein, including but not limited to: the potential impact of epidemics, pandemics or other public health crises, including the current outbreak of the novel coronavirus known as COVID-19, on the Company's business, operations and financial condition; the inherent risks involved in the general securities markets; uncertainties relating to the availability and costs of financing needed in the future; the inherent uncertainty of cost estimates and the potential for unexpected costs and expenses; currency fluctuations; regulatory restrictions; liability; competition; loss of key employees; and other related risks and uncertainties. The Company undertakes no obligation to update forward-looking information except as required by applicable law. Such forward-looking information represents management's best judgment based on information currently available. No forward-looking statement can be guaranteed and actual future results may vary materially. Accordingly, readers are advised not to place undue reliance on forward-looking statements or information.
Stay Connected
For more information about Wikileaf, please visit www.wikileaf.com or follow us on Twitter @Wiki_Leaf, Instagram @wikileaf_, Facebook @Wikileaf and YouTube Wikileaf.
Media Contact
For media inquiries only: press@wikileaf.com
Source: Wikileaf Technologies Inc.
Tags
Related Files
Additional Links