Wicab, Inc. Granted U.S. Patent for Treatment of Impaired Motor Control or Function
Press Release
•
updated: May 26, 2020
First Patent Issued to the Company in the U.S. Provides Coverage for Treatment of Motor Control or Function Disabilities Using Wicab's BrainPort® Balance Plus Device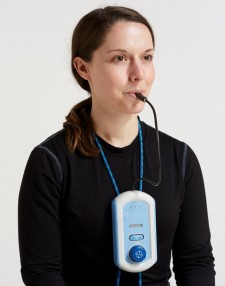 MIDDLETON, Wis., May 26, 2020 (Newswire.com) - WICAB, Inc. ("WICAB" or the "Company") today announced that the United States Patent and Trademark Office issued to the Company U.S. Patent No. 10,589,087 related to methods of treating patients with impaired motor control or function. The patent claims encompass methods of providing rehabilitative improvement of motor control or function to a patient using Wicab's BrainPort® Balance Plus device as a biofeedback balance training aid during physical movement or exercise in a rehabilitative therapy program.
Examples of rehabilitative improvements encompassed by the claims include improved balance, alleviation of dyskinesias, alleviation of dystonia, alleviation of tremor, alleviation of gait problems, and alleviation of slowness of movement. A variety of different types of patients are encompassed by the claims including patients with bilateral vestibular dysfunction, patients with traumatic brain injury, patients with stroke or cerebellar lesion, and patients with Mal de Debarquement syndrome.
"We are pleased to receive this patent based on years of research led by Dr. Paul Bach-y-Rita, a pioneer in the development of tools to treat patients suffering from neurological disorders," said William Conn, the company's Acting CEO.
About the BrainPort® Balance Plus
The new BrainPort® Balance Plus device was developed for patients suffering from chronic balance disorders. The device provides the user immediate biofeedback regarding their head and body position when performing balance training exercises. This feedback is achieved via gentle electro-tactile impulses from a small array placed on the user's tongue. Therapy with the device has helped many people improve their balance, posture and gait, enhancing their quality of life.
The BrainPort® Balance Plus device is licensed by Health Canada and is being sold in Canada. The device is not cleared for sale in the United States. More information is available online at www.wicab.com.
About Wicab, Inc.
Wicab, Inc., located in Middleton, WI, is a privately held medical device company dedicated to providing innovative products for individuals based on sensory substitution technology originally developed by Dr. Paul Bach-y-Rita at the University of Wisconsin-Madison. Wicab, Inc. is an ISO 13485-2016 certified medical device company.
Press Contact
Bill Conn
wconn@wicab.com
O: 608-829-4504
Source: Wicab, Inc.