Who's Good Launches a News-Based Risk Analysis Product for Investors
Press Release
-
updated: Nov 8, 2018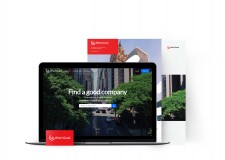 SEOUL, South Korea, November 8, 2018 (Newswire.com) -  Who's Good, AI-based corporate environment, social and governance (ESG) data provider, announced the launch of Who's Good ESG Incident Analysis, a news-based solution that allows financial professionals and investors to track corporate risk in real time.
The use of AI in the financial industry is becoming more common. But investment robo-advisors and stock trading platforms only use quantitative data, Who's Good created a unique robo-analyst for dynamic qualitative data analysis. This allows big institutional investors like pension funds to uncover potential risks from unstructured data.
Leveraging news big data with AI, ESG Incident Analysis collects information about the nature of corporate ESG incidents concerning all 2225 Korea Exchange listed companies from 93 Korean media sources. The extracted information is further categorized into seventeen sub-categories to draw ESG incident patterns per company and to make tracking long-term (up to five years - risk analysis availability is subjected to the news data availability) incident trends possible. The long-term ESG incident trend patterns are visualized to make a side-by-side comparison with stock price changes to demonstrate the impact of ESG incident has on the corporate financial performance.
 "A minor corporate ESG incident can signal a bigger ESG problem hidden under and this, in turn, can pose as a major risk for investors. Hence, we believe it is important for investors to be aware of the full extent of impact and potential risk of such incident can pose on a company they want to invest in," said Thomas Yoon, CEO of Who's Good.
"By merging Who's Good's expertise in corporate ESG analysis in the context of Korea with AI-based text analysis, we optimize algorithms to collect all ESG incident and evaluate their impact or risk such incident poses. We automated the entire process from article collection to analysis to ensure accuracy and impartiality in the analysis. Automation also allowed the product to be time-sensitive to best serve the needs of investors."
Who's Good ESG Incident Analysis is available via Who's Good platform.
About Who's Good
Who's Good was founded in 2014 by Thomas Yoon, it has successfully raised $1 million for its pre-series A round in beginning of 2018. Who's Good is a fin-tech social venture based in Seoul, South Korea. It helps institutional investors reduce their investment risks by providing extra-financial information on corporates. Who's Good works with major banks, asset management companies, financial information providers, government organizations in Korea and internationally.
Who's Good uses AI and big data to disclose, compare and analyze corporate ESG performance of KRX listed companies. It also offers ESG Performance Analysis, a complementary product to ESG Incident analysis that provides an extensive corporate ESG analysis of 700 listed companies. ESG Performance Analysis is updated annually and the reports can be purchased via Who's Good platform and FactSet.
Contact Information
Maxim Nam
Business Development Manager / maximnam@whosgood.org
Source: Who's Good
---
Categories: Corporate Social Responsibility, Financial News
Tags: AI, corporate environment, corporate risk, finance, fintech, investment risk, qualitative data analysis, risk analysis
---