Whole Health Plus Technology Announces Acceleration of the Launch of Their Product 'My Life'
My Life is a certified voice-activated skill for Amazon's Alexa platform that aids in keeping elderly people engaged.
Press Release
-
updated: Jun 29, 2018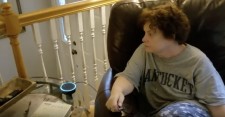 CAMBRIDGE, Mass., June 29, 2018 (Newswire.com) - Whole Health Plus Technology today announced that they are accelerating the launch of their product "My Life" which has been deployed in 6 states; including Massachusetts, New York, Colorado, Vermont, Florida and New Mexico. The company has also launched an open-source initiative to encourage partnerships.
My Life is a certified voice-activated skill for Amazon's Alexa platform that aids in keeping elderly people engaged with their families, caregivers, and healthcare providers for better physical and emotional health. Together with support from the family "care circle," modern IoT technologies and machine learning, My Life provides an innovative solution that unites the lifestyles of both generations: tech comfortable and health necessity.
My Life has filed for a provisional patent that signifies the mission: "Universal non-computer community-enabled elder-focused healthcare via zero-portal-management and exploitation of pervasive IoT devices." The design point is not technology, rather, accessibility that uses technology. Simplicity is the guiding principle of My Life for users and for care-circle members.
Chief Technology Officer and founder, Chris Stakutis said: "Others have tried to assist the most valuable generation but often with a focus on cumbersome technology to that demographic and not the personal interaction and information needed for caregivers and loved ones. We address that."
Co-founder Andrew Fosbrook said: "I was inspired by the changes I saw in an aging family, especially with those suffering from memory loss. I respect their courage of remaining independent, but communication and handling daily needs is absolutely essential. This eases the pressure on both the loved aging family member and those that look after them."
My Life learns a user's interests, health issues, and much more about their life and utilizes many online sources for not just news and weather but for common purchases of goods, information, and services they may need perhaps from Amazon, Whole Foods, PillPack or other related establishments. However, most importantly: keeping their care-circle informed of their physical and mental health.
According to Stakutis; "The goal of pursuing Open Source is to truly be a member of this community, and to be an integral part of the group we all aspire to belong."
Please feel free to learn more about My Life by visiting: http://wholehealthplustechnology.com
Media Contact:
Dir. Andrew Fosbrook
pr@wholehealthplustechnology.com
518-796-5217
Source: Whole Health Plus Technology
Share:
---
Categories: Medicine and Healthcare
Tags: aging, alexa, amazon, assisted living, elder, healthcare, home care, IoT, voice
---