Whitefish Marketing Present Talk at the Accountex Show
Kent SEO Specialists Whitefish Marketing will be attending Accountex show at the London ExCel.
Press Release
-
Apr 1, 2016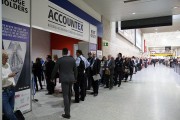 Folkestone, April 1, 2016 (Newswire.com) - Whitefish Marketing will be attending the Accountex show hosted at the London ExCeL. The Kent based digital marketing company has been selected to guest speak to accountancy firms on "How to Secure More Clients by Using Google Effectively" which will take place on May 11th 2016 at 2.00 - 2.45pm. The sole purpose of the seminar is to help accountancy firms better understand digital marketing elements, thus enabling firms to adopt strategies to increase visibility on Google, which in turn will help increase their client base and new business enquiries.
Chris Surridge - Marketing direct of Whitefish Commented:
"The Accountex show is a major event in the accounting and finance industry, and we are delighted to be able to showcase our services and teach accountants the nuances of digital marketing that will help their businesses grow.  Digital marketing is not new by any means, but so many businesses still haven't adopted it as part of their regular marketing activity.  With so many accountancy firms still ingrained in using outdated methods of marketing, we hope to show them what they could be achieving, when the marketing campaigns are delivered efficiently."
For further details of the Accountex seminar hosted by Whitefish Marketing, head to; http://www.accountex.co.uk/seminar/secure-clients-using-google-effectively/   Advance booking is advised.
Whitefish Marketing themselves will be exhibiting at the Accountex show as well, showcasing 2 major digital products geared for the accountancy and finance sectors.  You can visit them at the show, at stand A318. If you would like to book a one-to-one appointment  for either of the 2 days, to speak directly with either Chris Surridge or another team member from Whitefish Marketing, then contact them direct at:  hello@whitefishmarketing.co.uk
Share:
---
Categories: Marketing, Accounting
Tags: accountancy marketing, accountancy web development, accountex, Content writing for accountants, Digital Marketing for accountants, Email Campaigns, Folkestone Marketing, Google Analytics, Kent Online Marketing, London ExCel, PPC, seo for accountants
---