Whether Teaching in America or Volunteering Around the World, Ameritech Financial Aims to Help Qualified Borrowers Apply for Public Service Loan Forgiveness
Press Release
•
updated: Sep 18, 2018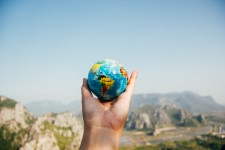 ROHNERT PARK, Calif., September 18, 2018 (Newswire.com) - Working as a volunteer may not have been the career path borrowers intended when they took out student loans. Now they face $40,000 in debt, on average, and may have to rethink their career options when their grace period ends. Why should they look into some careers instead of others? Because the Department of Education (DOE) is more likely to forgive their student loan debt if they pursue specific careers in public service and some of the forgiveness they offer differs depending on the type of loan they have. Public Service Loan Forgiveness (PSLF) is more widely known and is a program through the DOE that can be quite confusing for borrowers who aren't sure if they are qualified. Ameritech Financial, a document preparation company, can walk borrowers through the process of applying for PSLF and help them stay on track for loan forgiveness to remain eligible.
"An important distinction for borrowers to know is that even if they are striving for PSLF, they still need to make 120 monthly payments with a repayment plan. They also must be working full-time for a qualified employer," noted Tom Knickerbocker, executive vice president of Ameritech Financial. "The payments, repayment plan and employer must all be qualifying, per the Department of Education standards."
An important distinction for borrowers to know is that even if they are striving for PSLF, they still need to make 120 monthly payments with a repayment plan.

Tom Knickerbocker, Executive Vice President of Ameritech Financial
Borrowers have other avenues to consider if they want to qualify for PSLF, such as serving full-time with AmeriCorps or Peace Corps. AmeriCorps is "a network of national service programs, made up of three primary programs that each take a different approach to improving lives and fostering civic engagement." For example, one of those programs is AmeriCorps VISTA, which stands for Volunteers in Service to America. VISTA members generally serve for 12 months in America. They are given a living allowance and education award of $5,920. PSLF considers working full-time with AmeriCorps as qualifying employment. However, if the volunteer has to pay for their own rent, they may have difficulties affording housing with the living allowance, which is generally capped at $12,100.
If student loan borrowers have had enough of paying rent and are ready to travel the world for a good cause, they should look into the Peace Corps. Volunteers for Peace Corps generally serve two years, plus three months of training. They have projects ranging from agriculture and community economic development to education and more. During their service, volunteers do not have to worry about rent; however, they will most likely be living in the same conditions as the host country, which could be very sparse. Borrowers may wish to talk to experts at Ameritech Financial and complete their own research to determine what they are responsible for paying, in terms of their student loans, while they are volunteering abroad with the Peace Corps.
"There are a lot of different options today for student loan borrowers," added Knickerbocker. "We want to see you succeed in life and our expertise on applying for PSLF could help guide you to your dream career in public service. We strongly recommend doing your own research into PSLF, and these wonderful qualifying careers, before you make any major life decisions."
About Ameritech Financial
Ameritech Financial is a private company located in Rohnert Park, California. Ameritech Financial has already helped thousands of consumers with financial analysis and student loan document preparation to apply for federal student loan repayment programs offered through the Department of Education.
Each Ameritech Financial telephone representative has received the Certified Student Loan Professional certification through the International Association of Professional Debt Arbitrators (IAPDA).
Ameritech Financial prides itself on its exceptional customer service.
Ameritech Financial Newsroom
Contact
To learn more about Ameritech Financial, please contact:
Ameritech Financial
5789 State Farm Drive #265
Rohnert Park, CA 94928
1-800-792-8621
media@ameritechfinancial.com
Source: Ameritech Financial
Related Media
Additional Links