When a Young Boy's Unusual Mark Causes a Stir, He Teaches Others That We Are More Than Our Skin
Press Release
•
Nov 8, 2022
Leading by example with kind words and deeds is the heart of this uplifting story. 'Birthmarks add color in all shapes and all shades. Tyler helped us to see how uniquely we're made!'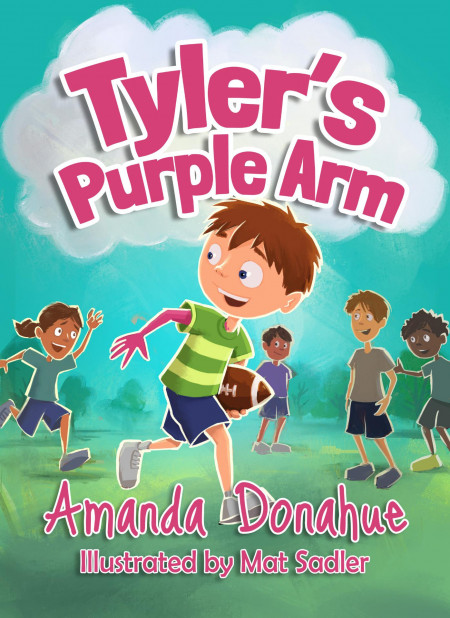 BLOOMINGTON, Ill., November 8, 2022 (Newswire.com) - A cheerful young boy named Tyler has a purple birthmark covering his arm and hand. When classmates react in varied ways to his different skin, he uses his positive attitude to convey that everyone has features that make us wonderfully unique. With extraordinary illustrations by Mat Sadler, Amanda Donahue's "Tyler's Purple Arm" is a joyful rhyming picture book showing readers it's what's inside us that counts."
At school, some of Tyler's classmates have never seen a birthmark. They stare, point, and gape, seeing only the boy's purple arm and not his winning smile or charm. Still others take it a step further with their hurtful whispers and mean comments. But Tyler is upbeat and brave, quick to point out that though our differences make us each unique, we are also the same in all the great things we can do.
"A birthmark? Me too! You have freckles? So neat!
Your moles give you beauty! Your skin can't be beat!"
Through skillful and lively rhyme, this bright and inspiring story shows young readers that Tyler's kind words and sunny outlook help his classmates learn to have love and compassion, and that our hearts and minds are what make us who we are.
It's what's inside that counts, not the skin that we have.
Yes, purple is different. But different's not bad.
With stunning illustrations in cheerful vibrant colors, Tyler's Purple Arm is a wonderful and uplifting story, particularly welcome in today's landscape. Amanda Donahue masterfully weaves a delightful read-aloud story for families and educators of young children, a poignant opportunity to invite dialogue about all the ways we are each unique and special and that what truly matters is kindness.
If you would like more information about author Amanda Donahue and Tyler's Purple Arm, please contact tylerspurplearm@gmail.com or visit Home | Tyler's Purple Arm (amandadonahue.net).
Source: Amanda Donahue, author