What Does Human Rights Look Like?
Press Release
•
updated: Aug 22, 2018
Pascal Chukwuebuka Nwoga is a human rights activist from Nigeria who brings human rights to life for the children at home and in nearby West African countries.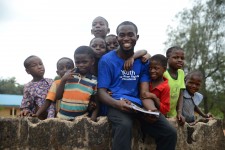 ABUJA, Nigeria, August 22, 2018 (Newswire.com) - Young boys and girls who never had a chance — but now do: That is what human rights looks like on a grassroots level and that is what drives Pascal Nwoga of Nigeria and his Youth for Human Rights campaign.
Children grow up under very poor conditions in Nigeria, where 67 percent of the population lives in poverty. They lack basic medical care. They are denied an education because they are put to work from a very young age to help the family survive. This has been an accepted way of life. But education is a basic human right upon which so many other rights depend. Without it, these children will never escape these conditions. "To me, every child is important to society," says Nwoga who is committed to ensuring a better future for them and for his country.
The challenge was to teach these children that they had to change for their own good and the good of society.

Pascal Chukwuebuka Nwoga , Director of Youth for Human Rights Nigeria
While studying in Ghana, Nwoga saw a Youth for Human Rights public service announcement on TV. He wrote away for the materials and received an educator package with all the information he needed to teach human rights to young people. The booklets and DVDs present the 30 articles of the Universal Declaration of Human Rights so graphically, anyone can understand them.
Nwoga returned to Nigeria to open the first Youth for Human Rights chapter in his country. He began delivering human rights education in private schools and eventually gained the government's approval to teach it in public schools.
"These children were involved in gangs, robbery and prostitution as a way to get money that could not be provided by their parents," says Nwoga. "The challenge was to teach these children that they had to change for their own good and the good of society." By educating them on their human rights, they came to realize that by helping one another they could escape their dead-end existence: it would not only benefit them, it would be a way to contribute to society.
His human rights campaign now extends throughout Nigeria and he has opened chapters in Ghana and several other nearby West African countries.
His story is the subject of a documentary on Voices for Humanity, which can be viewed on the Scientology Network.
The Church of Scientology and Scientologists support United for Human Rights and its program for young people, Youth for Human Rights. It is the world's largest nongovernmental human rights education campaign, reaching out in 195 countries in 27 languages and embraced by 2,300 activists, officials, groups and organizations. Their support is inspired by humanitarian and Scientology founder L. Ron Hubbard and his conviction that "It is vital that all thinking men urge upon their governments sweeping reforms in the field of human rights."
Source: Scientologynews.org
Related Media