Westside Estate Agency Thrives, Fueled by Growing Demand for Luxury Real Estate in Prime Los Angeles Locations
Leading luxury real-estate brokerage firm saw vibrant Q3 growth through focus on client satisfaction, agent loyalty, and experience in working with high-net-worth individuals (HNWI) who seek the LA lifestyle and solid investment opportunities.
Press Release
-
Oct 26, 2016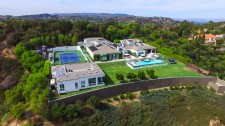 Beverly Hills, CA, October 26, 2016 (Newswire.com) - Westside Estate Agency, (WEA), the leading Los Angeles luxury home brokerage firm, experienced robust growth in Q3, driven by strong demand for Los Angeles luxury real estate. WEA specializes in luxury properties valued at more than $1 million in the Westside, a market that grew 71 percent from Q2 to Q3 this year, and was up 11.5 percent compared to Q3 of 2015. In its most recent market analysis, WEA reported continued growth in both Westside listings and property values. The Westside of Los Angeles includes Bel Air, Beverly Hills, Malibu, Marina Del Ray, Santa Monica, West Hollywood, and surrounding areas.
WESTSIDE, TOTAL SALES VOLUME*: QUARTERLY COMPARISONS (BILLIONS)
                              Q1                Q2                      ∆ Q2:Q1                     Q3                    ∆ Q3:Q2                      YTD
2015               $3.693BN      $10.317BN            179.4%                $15.838BN             53.5%                   $29.848BN
2016               $3.735BN      $10.323BN            176.3%                $17.656BN              71.0%                   $31.714BN
∆ YoY                1.2%                 0.1%                                                    11.5%                                                      6.3%
*NOTE: sales data for single family homes of $1MM or more
Established in 1999 and focused exclusively on luxury properties of $1M or more, WEA's growth is driven by its impeccable roster of agents who remain loyal to the firm and are dedicated to client satisfaction. WEA's co-founder and chairman, Stephen Shapiro, attributes the firm's recent success to its independence and reputation as one of the most established boutique agencies. "Superlative one-to-one customer service, coupled with agent loyalty and the latest market intelligence, are key to selling to the high-net-worth individuals who are defining the Westside luxury real-estate market."
Current WEA listings include some of the Westside's most unique properties
The firm currently offers a number of prestigious listings in the Westside and Malibu that are solid investments for discerning buyers, including:
·         The Summit, Summit Drive, Beverly Hills: An extraordinary estate that almost defies description. Situated in a 24-hour guard-gated community with its own gates and private drive, this home is a modern architectural masterpiece of size and scale.
·         661 Doheny Road, Beverly Hills: Over an acre in the most prime section of Beverly Hills, this world-class estate is the perfect blend of quality, style, and privacy. 
·         1642 Mandeville Canyon Road, Brentwood: a magical compound of three structures set amid 2.63 acres of park-like property.
·         182 N. Carmelina Avenue, Brentwood: An extremely private, secluded, and sophisticated Mediterranean Villa designed by William Hefner in 2004.
·         31250 Broad Beach Road, Malibu:  An architectural connoisseur's dream designed by Frank Gehry. This world-class trophy property encompasses multiple parcels with an unprecedented 160 feet of beachfront in a prime section of Broad Beach. 
The Westside attracts HNWI seeking strong investments and the Southern California lifestyle
WEA was included in the Los Angeles Times top sales of August with the close of film editor Dominik Bauch's $6.75 million Brentwood traditional style home. Completed this year, the three-story house sits on slightly more than a quarter of an acre and is fronted by a circular driveway. WEA also worked to close the sales of designer Barbara Barry's fully furnished Beverly Hills home for $7.85 million, former child star Marjorie Lord's Hollywood Regency style home for $8.3 million, and John Krasinski and Emily Blunt's Hollywood Hills home for $6.5 million. WEA is also representing studio chief Chris McGurk as he moves to sell his modern Malibu home.
In addition to being consistently in the mix of the local buyers and sellers who comprise the Westside luxury market, WEA is experiencing an influx of buyers from Silicon Valley as executives either seek the lifestyle provided by the Westside, or who relocate south to work in the expanding LA tech neighborhoods of Silicon Beach. WEA has already represented Larry Ellison, (Oracle), Sean Parker, (LinkedIn, Napster), Evan Spiegel, (Snapchat) and other technology luminaries who have invested in Westside properties, and recently hosted a meeting in Silicon Valley to connect with that region's top realtors.
NOTE TO MEDIA: The September edition of the WEA micro market illustrates the dramatic growth between 2007-2016 of Westside luxury homes and estates valued at more than $1 million.
About Westside Estate Agency
Westside Estate Agency (WEA) is an independent luxury real-estate brokerage company. With offices in Beverly Hills, Malibu, and Miami, WEA serves the luxury real-estate needs of high-net-worth individuals who are at the pinnacle of the business, financial, technology and entertainment industries. WEA generates billions in sales and is consistently ranked as the agency with the highest average price per sale in the industry. Visit Westside Estate Agency at www.weahomes.com.
Source: Westside Estate Agency
---
Categories: Business Development, Business News, Real Estate, Real Estate, Real Estate Investments, Home
Tags: California Luxury Real Estate, LA Luxury Homes, LA Luxury Real Estate, Los Angeles Luxury Real Estate, Los Angeles Real Estate, Luxury Homes in LA, Luxury Real Estate Agencies, Luxury Real Estate Agents, Luxury Real Estate Los Angeles, WEA, WEA Homes, Westside Estate Agency
---