Westside Christian Academy Announces the Launch of the SME Westside High School Membership Program
Henry Wells, III, Campus Principal and Head of Westside Christian Academy recently announced the formation of the Westside SME (Society of Manufacturing Engineers) Membership Program, to further educate students on the value of manufacturing and the career possibilities available to them.
Press Release
-
updated: Feb 5, 2018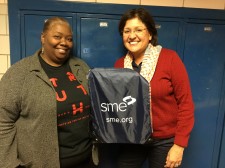 Detroit, Michigan, February 5, 2018 (Newswire.com) - "This is a wonderful opportunity for our students to learn the many opportunities for a career in manufacturing including skilled trades, engineering, designing and programming," said Wells.
There are currently more than 600,000 jobs available in manufacturing in the US, with the expectation that number could grow to 2 million by 2025 because of an aging workforce and new technologies creating more jobs.
"Our students will envision a more positive future when they learn about the manufacturing resurgence in Detroit and realize that they can be a part of it and begin to work toward that goal," said Wells. 
The SME high school student membership program provides a wealth of knowledge for the student members including access to programs and activities that provide them with both hands-on and virtual access to resources and information related to manufacturing including a mentorship program and scholarships.
"Our students are discovering that manufacturing is undergoing a renaissance in their own community with high paying manufacturing jobs and successful careers opening up to them," said Wells.  "They need to learn what opportunities are out there for them, and becoming involved in the SME High School Membership Program will give them access to that information."
About SME
SME is a nonprofit organization has served practitioners, companies, educators, government and communities across the manufacturing spectrum for more than 80 years.  Through its strategic areas of events, media, membership, training and development and the SME Education Foundation, SME is uniquely dedicated to the advancement of manufacturing by addressing both knowledge and skills needed for the industry.
About Westside
Westside Christian Academy is a beacon of hope providing children a holistic, Christ-centered education in a loving community. Founded in 1994, Westside Christian Academy is located at 9540 Bramell Street on the western edge of Detroit.  Westside Christian Academy is led by Mr. Henry Wells, Campus Principal and Head, and is supported by a board of directors dedicated to excellence. Graduates of Westside can be found in colleges and universities, the military and various careers such as business, education, ministry and law enforcement. 313-255-5760, www.westsideca.org
Source: Westside Christian Academy
Share:
---
Categories: Educational News, Non-Profit Schools and Institutions, Manufacturing
Tags: education, entrepreneurship, high school, mathematics, science, STEM, students, technology
---