Westrick Launches New Shopify Website With Digital Agency CQL
Press Release
•
Sep 27, 2022
Licensed party supplies dealer Westrick & Co. has launched its new D2C website ShopWestrick.com with Digital Agency CQL.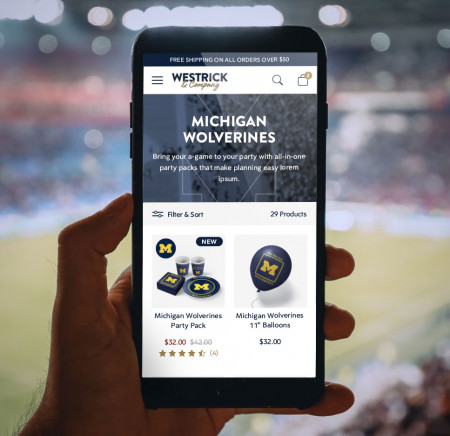 GRAND RAPIDS, Mich., September 27, 2022 (Newswire.com) - Westrick & Co., the licensed party supplies dealer for almost 50 U.S. colleges and universities, the Kentucky Derby, and the Indianapolis 500, has launched its new website ShopWestrick.com with Digital Agency CQL. The site is built using Propel, CQL's proprietary Shopify Plus blueprint that accelerates Shopify launches, optimizes site performance, and delivers industry-leading best practices and user experiences.
After its success over the past several decades selling to large retailers, including Oriental Trading, Party City, and Fanatics, Westrick wanted to bring its officially licensed party supplies directly into customers' homes with a D2C site. The new site features a recognizable brand that drives fan loyalty and enhances Westrick's sales channels. CQL brought the Westrick brand vision to life by showcasing the celebratory nature of the brand in the site design and establishing a memorable customer experience for fans online.
"CQL is privileged to partner with Westrick to create their new digital brand and support their future growth. Using Shopify Plus' robust commerce platform, Westrick's new website has a scalable, tailored commerce solution with an engaging user experience and an easy-to-manage backend. As a Michigan State alumni and football fan, I couldn't be happier to see the Spartans and so many great university programs represented in the Westrick product mix. They make tailgating easy," states Scott Robertson, Managing Director at CQL.
The Westrick site features a powerful navigation with almost 50 colleges and universities, featuring collegiate logos in the navigation and overlays product landing pages (PLPs), sporting events such as the Kentucky Derby and Indy 500, and a B2B portal for wholesalers. The site also includes Shopify's third-party applications, including Yotpo, Klaviyo, and Gorgias, to deliver an impactful and enjoyable user experience.
Jim Tassoni, VP of Sales at Westrick & Co., spoke highly of his experience with CQL and looks forward to the future of the new D2C site. "We were truly impressed with CQL's robust design and development process, as well as their Shopify expertise. CQL not only walked hand-in-hand with us all the way through the project but also continues to support us as a long-term strategic partner in our growth. The new digital brand exceeded our expectations and creates a solid foundation for our future expansion."
About CQL Corp
CQL is a digital commerce agency with a 27+ year history of creating commerce experiences and solutions for inspiring brands and people who love them. CQL's unparalleled technical expertise & experience design coupled with industry-leading eCommerce platforms, has helped retailers and manufacturers drive record online revenue, build new channels, and envision world-changing ideas. Headquartered in Grand Rapids, Michigan, our clients include Petsmart, e.l.f. Cosmetics, Wolverine Worldwide, Escalade Sports, Costa Del Mar and more. For more information, call 616-365-1000 or visit CQLCorp.com.
Source: CQL