West Coast Premiere of Bastard Son of a Thousand Fathers is a Rousing Success
Press Release
-
Oct 5, 2016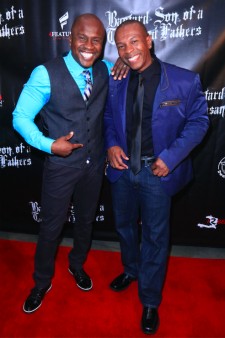 Los Angeles, CA, October 5, 2016 (Newswire.com) - The west coast premiere of the multi award-winning film, Bastard Son of a Thousand Fathers (BSOTF) was on Sunday, October 2nd at The Downtown Independent Theater in downtown Los Angeles with a jam packed red carpet. There was also an informative Q and A session after the film with the cast and crew in attendance. This edgy, urban thriller is nominated in 5 major categories, including Best Movie by the Motion Picture Association of Haiti (MPAH).  
BSOTF was produced by Chicago's top independent film company 4 Features Film.  4 Features Film is a full service production company that is known for their high quality independent films and also their television commercials which has won them multiple Telly Awards.
Their latest project Bastard Son of a Thousand Fathers has already created a big buzz with their loyal followers and mainstream media. The film is written and directed by Lanre Sarumi (Critical Nexxus, Banana Leaves) and the main characters and executive producers are world renowned movie makers Remoh Romeo (Hogtown, Lakay) and Tirf Alexius (Lakay, Chicago P.D.). 
The seventy-eight minute crime thriller tells the story of a ruthless immigrant's persistent quest for power and fame which leads to the development of a new addictive drug that allows the user to reach an ultimate high while still remaining a productive member of society. Just as he's starting to cash in on his invention, a blackmailing kingpin threatens to take it all away. This fast-paced action packed thriller is filled with cliffhangers and laced with twists, turns, and the bodies of everyone who gets in his way.​
The movie is the brainchild of Chicago filmmakers Remoh Romeo and Tirf Alexius who worked on the script for several months before beginning production. "It tells the real life decisions some people are faced with when they have limited options," says Romeo. "We wanted to give an accurate portrayal of how life can be for immigrants in some of America's toughest neighborhoods," adds Alexius.
As for their much anticipated west cost premiere, "It was fantastic to be surrounded by a team of people who believe and support your creative endeavors," said Alexius.
For every ticket sold, $1 will be donated to i2BELIEVE, a 501(c)(3) nonprofit providing educational opportunities to children and adolescents in Haiti, which happens to be very timely considering Hurricane Matthew hit Haiti.
The filmmakers will also gracious donate $1 for every digital purchase of the film. 
Bastard Son of a Thousand Fathers had a nationwide theatrical trailer that was released in select movie theaters in Chicago on September 16th and New York City on September 23rd. After the theatrical release, the film will be released around the world on every major on-demand format. For more on Bastard Son of a Thousand Fathers visit www.BastardSonMovie.com ​
Source: The Williamson Management on behalf of 4 Features Film
Share:
---
Categories: Movies, Performing Arts, Arts and Entertainment
Tags: 4 Features Film, Bastard Son of a Thousand Fathers, BSOTF, Downtown Independent, Lanre Sarumi, Remoh Romeo, Tirf Alexius
---