Welsh Punk Folkie Nigel Philip Davies to Play for Donald Trump's Inauguration (Satire)
Press Release
-
updated: Jan 17, 2017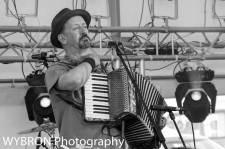 Neath Port Talbot, Wales, January 16, 2017 (Newswire.com) - Welsh punk folk legend Nigel Philip Davies has confirmed that he will play for Donald Trump's inauguration as US President on January 20.
(Note to editors: this is satire.)
"I admit I had some reservations," said Davies, who was trolled by Trump supporters when, during the election campaign, he released Mr Tangerine Man, an anti-Trump protest song based on Bob Dylan's classic Mr Tambourine Man.
"But when I saw the impressive line-up of musicians, movie stars and other celebrities who won't be performing at the inauguration, or even watching it on TV, I thought 'Chwarae teg[1], it's his first day on the job, I'll cut him some slack.'"
Because of his other commitments, Davies will limit his set to just one song, Unfinished Business, from his most recent solo album, Songs from a River.
"It's kind of appropriate, as it can be interpreted as making the point that now that Trump actually is President, he'd better start delivering for all the people who put him there."
The point is underlined by the video, in which footage of Davies playing and singing is interspersed with harrowing photographs of poverty in modern-day America.
"It cuts both ways—as a reminder to Trump to pull his finger out and do something for the people who voted for him, and as a reminder to the Democrats that the social evils they claim to be fighting still very much exist."
Clearly, Davies' anti-Trump position hasn't softened, so how does he think his performance will be received by the President?
"Well, it's not like I'm actually going to be there," said Davies. "I'll be at home in Wales watching the inauguration on the telly and at some point in the proceedings—probably when the Mormon Tabernacle Choir start singing Oh Happy Day!—I'll turn the volume down.
"Then I'll play Unfinished Business on the stereo, with the sound all the way up to eleven."
Northern hemisphere media enquiries (UK, USA, Europe): Nigel Philip Davies +44 7905 735 675​ 
Southern hemisphere media enquiries (Australia, New Zealand, Asia): Rody Hogan +61 408 564 041
Created by www.universalstranger.com  part of Australian Media Services Pty Ltd ABN 70 085 010 304
[1] Welsh for "fair play".
Source: Nigel Philip Davies
Share:
---
Categories: Celebrities, Music, Politicians, Arts and Entertainment
Tags: Donald Trump, folk music, Hollywood stars, humor, inauguration, punk music, satire
---