Welcoming a New CEO, Heath Falzarano
Taking the reins and launching the company forward, one machine at a time.
Press Release
-
updated: Apr 3, 2018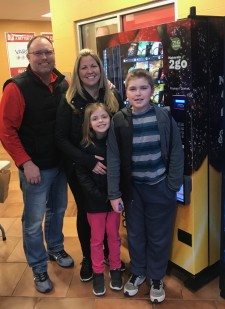 IDAHO FALLS, Idaho, April 3, 2018 (Newswire.com) - VendTech International, parent of Naturals2Go, an industry leading healthy vending business opportunity company, as well as a number of other bulk and standard vending brands, is pleased to announce that they have a new CEO at the helm. Heath Falzarano takes on this new position. Already the co-owner of two other business ventures, Heath brings experience in the B2B, as well as the healthy vending industry.
Heath owns and operates his own vending business, 716 Snacks (www.716snacks.com), getting his start with Naturals2Go in 2016. Naturals2Go's state of the art vending machines are designed to serve a variety of customers with modern features including cashless payments, online machine monitoring and customizable options that make for some of the best machines available in the business. He has continued to grow this venture, while also working with the Naturals2Go placement team. In his time with the company, he has come to both respect the core principles of the company and hopes to be a support to promote a thriving environment, not only within Naturals2Go but with all vending ventures that are available through VendTech International.
As an athlete, health and nutrition have always been important to Heath. He feels that healthy vending has a strong outlook on the future. You can expect to see a push towards this kind of brand, acclimating the current business model towards these avenues, as well as strong communication, a supportive behind the scenes team and the kind of structure within company ranks that promotes a welcoming work environment.
Heath brings an excited outlook to the table. He has always appreciated the frank and straightforward communication that he has received from VendTech and feels that teamwork is a large part of why the parent company has been able to cultivate their vending lines into some of the best in the business. While he doesn't have any radical changes that he plans to implement, he is certain that his experience will enable to him to provide strong leadership as the company steers its healthy vending onward, into the future. His goal is to stabilize the company culture, creating an open dialogue between VendTech and their vending brands, as well as to modernize the approach of the vending business.
We are excited to share this news with you and hope that you will join us in welcoming Heath Falzarano to the VendTech team. As a seasoned operator, he is bound to have insights for the vending brands here at VendTech and we are certain that he is just as excited to get started with his new role at the company.
During a phone call with one of the employees, Heath was quoted as saying: "This company is all about the people that lead it. The majority of that leadership is in the trenches, just like other operators. We live by the saying 'people do what you do, not what you tell them.'"
VendTech International is a Vending Business Opportunity Company aiming to add new vitality and healthier options to the vending industry while helping people start and run their own successful business.
For more information on this topic, please call Makayla Seger at 208-699-9169 or makayla@naturals2go.com. View the Naturals2Go website at www.naturals2go.com.
Source: VendTech International
---
Categories: Franchising, Entrepreneurship
Tags: franchising, healthy vending, vending business, vending machines
---