Weiss & Company LLP Names Two New Partners
Press Release
•
updated: Jan 12, 2023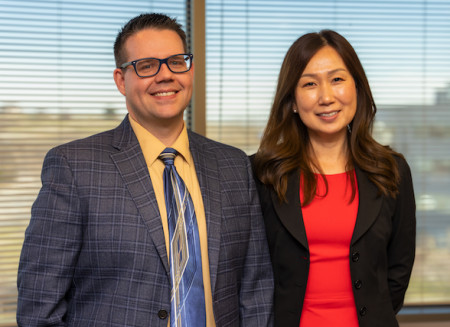 GLENVIEW, Ill., January 12, 2023 (Newswire.com) - Weiss & Company LLP has announced that senior managers Katherine Chung and Jeremy Morgan have been promoted to partners.
"We pride ourselves on our expertise and client service, and Jeremy and Katherine both personify these attributes in practice," said Managing Partner Dan Fortman. "As we begin 2023, we are excited to elevate both of them to leadership."
Chung joined Weiss in 2019 as a senior tax manager with more than 20 years of experience in the profession. She works closely with clients in diverse industries, including manufacturing, retail, distribution, real estate, professional practices, service companies, and restaurants. Her areas of expertise include federal, state, and international tax planning and compliance for closely held, small to mid-market companies that are taxed as pass-through entities and C corporations. She also works closely with high-net-worth individuals.
A member of the American Institute of Certified Public Accountants and the Illinois CPA Society, Chung earned a Master of Science in taxation from Northern Illinois University. Throughout her career, she has gravitated toward the challenges and intricacies of being a tax specialist. "Each client is different, and learning to understand and adapt to their needs, providing solutions, and seeing the positive impact that I can make gives me a sense of purpose in what I do," she said.
As a partner, she hopes to continue working with this sense of purpose. "I appreciate the opportunity and support, and I see this as a chance for me to give back what I have learned to help build the next generation of leaders and contribute to the success and growth of the firm," she said. "Being a partner is less about me. It's about having a truly servant leadership heart towards staff and clients."
A resident of Glenview, Chung enjoys outdoor activities with family and friends, hand knitting, and relaxing with a good cup of coffee. "My family and friends help me stay grounded, and my kids inspire me to be my best and to be a person of integrity each day," she said.
Morgan joined Weiss in October 2010 as an auditor. Since then, he has grown to provide complete solutions for his clients, including assurance, consulting, and tax services. He works with clients in multiple industries, including manufacturing, distribution, retail, healthcare, nonprofit, printing, professional practices, service companies, common interest realty associations, and technology companies.
"I'm a problem solver," he said. "Our clients already know their business operations through and through, but I add value in the areas that they don't have the day-to-day expertise in — anything from accounting to taxes to forecasting and planning to technology solutions, and much more."
A member of the American Institute of Certified Public Accountants and the Illinois CPA Society, Morgan received his BS in accounting from Northern Illinois University. One of his favorite parts of his work is having meaningful impact on the lives of his clients, and he looks forward to continuing this high level of service as a partner.
"It is such a pleasure to become one of the new partners at Weiss," he said. "The other partners have demonstrated the value of exceptional client service, and I know that all the hard work and devotion to our clients has made all the difference. I love to share my personal life with my clients and have found out that we are all very alike in some way or another."
Morgan spends his free time with his wife Liz and their two children, ages 8 and 6, at their home in Palatine. Together they enjoy camping, biking, watching movies, and playing games.
About Weiss & Company LLP
For over 50 years, Weiss & Company LLP has been providing accounting and auditing, tax preparation, and consulting services to clients of all sizes in many different industries. Headquartered in Glenview, Illinois, the firm is a member of BDO Alliance USA, a nationwide association of independently owned accounting and consulting firms. Contact dfortman@weisscpa.com for more information.
Source: Weiss & Company LLP