Wedding Industry Icon Behind Catan Fashions Partners With Evergreen for Bridal Podcast
Press Release
•
Dec 1, 2022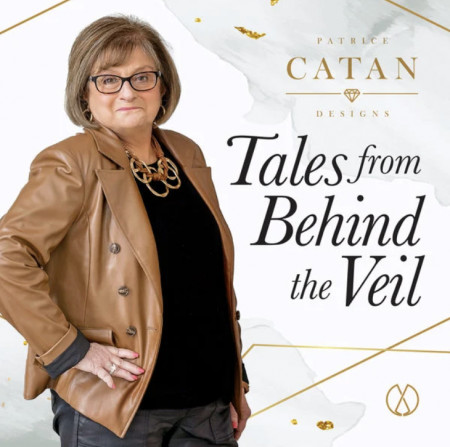 CLEVELAND, December 1, 2022 (Newswire.com) - Patrice Catan, the creative entrepreneur behind one of the largest bridal boutiques in the country, Catan's Fashions, is launching a podcast in partnership with Evergreen Podcasts.
The Tales from Behind the Veil series will hone in on Patrice's approach to customer service while educating retailers on delivering dream-come-true experiences, through practical business advice and heart-warming stories. She is joined by veteran Evergreen producer Leah Haslage, who has produced for top shows like Pit Pass Moto, Banking Transformed, and Simple, Interrupted - A PetDesk Podcast. Haslage also hosts her own show, Weddings Unveiled, on the growing Evergreen podcast network.
"I'm thrilled to be hosting this podcast with Evergreen, engaging an audience of listeners with the good, the bad, and the funny," Patrice says. "Tales from Behind the Veil will 'unveil' what I've learned from the ground up by being on the floor."
Her podcast debut follows more than 40 years as a creative designer in the bridal industry, an experience that she credits to her father, founder of Pat Catan's Craft Centers. One of the largest craft retailer stores in the world, Catan's was later acquired by the Texas-based Michaels Co. in 2016. In 1980, Patrice opened Catan's Bridal, once the country's largest bridal store with 54,000 square feet of dressing rooms, gowns, and 27 seamstresses.
"It's a joy to welcome Patrice, a legend in the bridal and craft industry, to our family of shows made to delight and inspire creators," says David Allen Moss, Evergreen's Chief Creative Officer. "She's served thousands of brides over the decades, earned countless awards within the marketplace, and has been a featured speaker at events across the country. What could be more inspiring?"
Patrice joins Evergreen as the company remains on track to becoming the largest independent podcast network in the world. Producing only four shows in 2017, the company now publishes 192 shows across 12 genres. Through original production, branded podcasts, and podcast advertising, Evergreen specializes in content distribution to a broad audience.
Recently, Patrice was commissioned by Cleveland's Western Reserve Historical Society to replicate and assemble bridal headpieces. The National Bridal Association awarded her Retailer of the Year (The DEBI Awards).
Tales from Behind the Veil launches Dec. 1, 2022, and will be available to stream via the Evergreen network on Apple Podcasts, Spotify, Pandora, Stitcher, and iHeartRadio.
About Evergreen Podcasts
Evergreen Podcasts is an award-winning production house that brings entertaining, thought-provoking content to people wherever they are. Evergreen produces podcasts that capture modern thinkers, influencers, and personalities. Top thought leaders and breakout brands choose Evergreen to capture inspiring stories through branded content, original shows, and partner podcasts.
Learn more about Evergreen Podcasts and check out the complete lineup of shows. Our storytelling podcasts have something for everyone.
Source: Evergreen Podcasts