Webbing Selects ng-voice to Deploy Their Fully Containerized Cloud-Native IMS for IoT Use Cases
Press Release
•
Jan 11, 2023
ng-voice will be integrated with Webbing's offering to provide a flexible and resource-efficient IoT connectivity solution for enterprises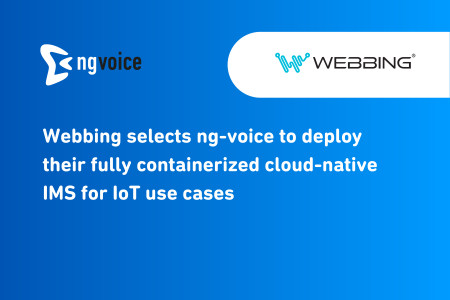 BERLIN, January 11, 2023 (Newswire.com) - ng-voice, a leading provider of a fully containerized and cloud-native IMS solution for the telecom market, today announced they have been selected by Webbing, a global MVNO connectivity provider for Enterprise Mobility and IoT, to deploy ng-voice's fully containerized and cloud-native IMS for mission-critical and other IoT use cases. This includes eCall and bCall for automotive, emergency call systems for elevators, highways, and alarms, and independent living monitoring wearables for trip or fall assistance. The joint solution will provide connectivity to Webbing's enterprise customers in a more flexible and resource-efficient way.
The market for IoT solutions is growing rapidly and many new use cases are emerging with the need for voice solutions. 4G/5G Critical IoT and Massive IoT are already around 1.7 bn connections globally and are expected to grow to ~5.0 bn in the next five years. To fulfill this market's requirements, network solutions need to be highly flexible, scalable, new functionalities must be added quickly (update times of days rather than months), and consume minimal resources to reduce costs and make new use cases commercially viable. Cloud-nativity is key to meeting this market's needs and unlocking the full benefits of connectivity.
ng-voice developed the industry's first truly cloud-native IMS - the critical component to deploy VoLTE and VoNR. Its key benefits include being cloud-and-infrastructure-agnostic, with highly automated deployment and operation processes, flexibility, and reliability to scale (up and down), standard compliance to 3GPP, and a minimal resource footprint.
Webbing has created connectivity infrastructures and platforms that enable enterprises to leverage exponential growth in connected devices and data. Webbing's connectivity solutions deliver a global carrier network of 600+ mobile carriers across more than 200 countries that provide the best-of-class for coverage, logistics, processes, costs, security, and other features across one SIM, SKU, Invoice, and Platform. Failover capabilities ensure superior global access to reliable, high-quality internet with low latency. Enterprises receive the benefits of roaming with multiple carrier options in every country, and seamless transition between carriers, while maintaining a local experience with local breakout for low latency on a global scale. With Webbing's eSIM solution and secured network, enterprises can easily meet regulatory requirements on communication services and data management from states and governments.
According to Yoram Zerahia, CTO at Webbing: "We chose to work with ng-voice because their cloud-native IMS and responsiveness fit perfectly with our portfolio and agile mindset, providing our enterprise customers with secure, reliable, and cost-efficient communication services. It further enhances our voice solution for the automotive industry. Together, we are one step further in helping IoT customers unleash their networks' full potential."
For David Bachmann, CEO of ng-voice: "our IMS is ideal for IoT use cases - it is highly automated, resource-efficient, and cost-effective, exactly what IoT use cases are all about. We see high dynamics in this market, and are thrilled to work with a like-minded partner such as Webbing, who is realizing the full potential of cloud-native and fully containerized voice solutions in IoT."
Source: ng-voice GmbH