Webalo Empowers Smith Gardens' Frontline Workforce With Real-Time Supply Chain Management Capabilities
Immediate visibility to inventory, product movements and discards reduces waste, increases customer satisfaction
Press Release
-
updated: Jan 9, 2019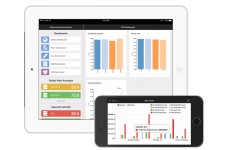 LOS ANGELES, January 9, 2019 (Newswire.com) - Webalo, Inc., the UX Platform for the Industrial Internet™, announced today that Smith Gardens Inc. has adopted Webalo's no-code app generation platform to generate mobile applications that enable them to improve customer service, reduce overstocks and inventory shortfalls and proactively manage stocking levels and movements.
Smith Gardens Inc., a 117-year-old family-run wholesale grower, grows annuals and perennials for home improvement centers and mass-merchant retailers, such as The Home Depot and Lowe's, in Washington, Oregon, Idaho, Alaska, and Western Canada. Their 'always growing, always learning' philosophy drove their selection of Webalo as a technology platform for improving their supply chain performance, from seed-to-sale.
Webalo, with its transformative no-code app generation platform, is designed as the ultimate frontline worker productivity tool for harnessing industrial and enterprise data in the journey towards Digital Transformation. Webalo sets a new standard in time-to-value, with its patented technology empowering enterprise users to quickly, easily and automatically generate dynamic desktop & mobile persona-based apps.
"We were looking for a solution that could help us be more accurate in replenishing product to our customers' stores. Maintaining the right level of inventory was often a guessing game, as we didn't have the real-time visibility into inventory shrink per store," said Lars Nilsen, Executive VP Sales & Marketing, Smith Gardens. "Empowering our frontline workers with Webalo underscores our core value of being stewards of our customers' success through improved data to eliminate waste and optimize product mix at the store level. Webalo is a great platform to help ensure that the plants the consumers want are always available at the right time and the right quantity."
Webalo's User First™ approach automatically generates and personalizes apps from multiple data sources, enabling frontline workers to visualize and respond to information through actionable notifications, real-time dashboards and bi-directional workflows that help them make better, more informed decisions and improve their productivity.
In just three simple steps, users can securely connect to data, configure the apps and deploy them across their enterprise without the need for advanced software development resources.
Webalo customers span the industrial market, including food & beverage, manufacturing, mining, oil & gas, power & transportation.
"Webalo is pleased to enable Smith Gardens, through our patented technology, to transform their supply chain operations with improved inventory visibility, movements, and worker management," said Webalo CEO, Peter Price. "It underscores the power of this technology to enable frontline workers by transforming an established company with a platform that scales, adapts to worker information needs and solves critical supply chain issues."
About Webalo
Webalo, the UX Platform for the Industrial Internet™ provides the app generation infrastructure for companies to transform into User First™ organizations. Webalo's patented technology enables companies to easily transform their enterprise applications into actionable, persona-based applications, where each user has just the information they need, on their device, to help them get their job done. Webalo is enterprise-ready, built to operate in the face of massive amounts of real-time transactional usage by thousands of users, helping them to make better, more informed decisions and to make their businesses more productive. For more information, please visit www.webalo.com.
About Smith Gardens
Smith Gardens, Inc. is a fourth generation, privately held wholesale grower of horticulture products, servicing major retailers in WA, OR, ID, AK. Smith Gardens also owns Pacific Plug & Liner in Watsonville, CA, which supplies young plants to growers nationally.
For more information, please visit http://www.smithgardens.com.
Media Contact:
User First is a trademark of Webalo Inc.
All other trademarks are properties of their respective owners.
Source: Webalo Inc.
Share:
---
Categories: Business Technology, Operations, Production and Manufacturing, Agriculture and Horticulture, Supply Chain Management, Industries
Tags: Digital Transformation, frontline worker, Industrial Internet, No-Code, UX Platform
---