Webalo Delivers No-Code, App Generation Platform for BlackBerry Enterprise Mobility Suite
New solution provides enterprise-grade mobile and desktop rapid application generation platform fully integrated with BlackBerry Dynamics & BlackBerry UEM
Press Release
-
updated: Jun 1, 2017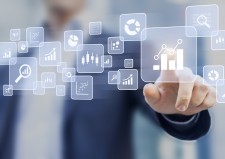 Los Angeles, California, June 1, 2017 (Newswire.com) - ​​​Webalo, the user experience platform for the enterprise, today announced Webalo for BlackBerry Enterprise Mobility Suite, which enables customers to securely connect to, and mash-up, multiple enterprise data sources and generate native mobile applications or web-based desktop applications, without the coding, complexity or cost of traditional application development approaches.
"The promise of mobility is that it allows businesses themselves to be more mobile, empowering them to be hyper-responsive to their users and changes in their own business, thereby increasing productivity and customer lifetime value," said Chris Marsh, Research Director at 451 Research. "The combination of Webalo's no-code app generation platform combined with BlackBerry's enterprise security infrastructure correctly identifies the requirements of non-technical audiences to more easily generate apps and to add to those the enterprise-grade security needed to address the expansion in the threat landscape that comes with the greater adoption of mobile."
Webalo for BlackBerry Enterprise Mobility Suite is fully integrated with BlackBerry Dynamics to make it simple to deliver mobile apps with advanced enterprise security and management features, such as single sign-on, encryption, data loss prevention, remote wipe, and policy management. 
"Webalo for BlackBerry fits our strategic vision for improving patient care, increasing productivity and getting more value out of our mobile infrastructure," said Stephen Chilton, Director of IT Services University Hospitals Birmingham NHS Foundation Trust. "Integrated with our BlackBerry security platform, Webalo allows us to accelerate application development and provide access to data so that our physicians, nurses, porters and other employees get results straight away."
"We've incorporated BlackBerry security, mobility and platform services into Webalo to ensure that our customers' data is always secure," added Peter Price, Webalo CEO. "For our customers, apps generated using Webalo are always enterprise-ready, able to operate securely in the face of massive amounts of real-time transactional usage by thousands of users, helping them make better, more informed, decisions and improving workforce productivity."
Resources
•      Webalo in 1 Minute:  View the Webalo Video
•      Get Started: Request a trial account
About BlackBerry
BlackBerry is a mobile-native security software and services company dedicated to securing people, devices, processes and systems for today's enterprise. Based in Waterloo, Ontario, the company was founded in 1984 and operates in North America, Europe, Asia, Middle East, Latin America and Africa. The Company trades under the ticker symbols "BB" on the Toronto Stock Exchange and "BBRY" on the NASDAQ. For more information, visit www.BlackBerry.com. 
About Webalo
Webalo provides the app generation infrastructure for companies to transform into User First™ organizations. Webalo's patented technology enables companies to easily transform their enterprise applications into personal applications, where every user has just the information they need, on their device, to help them get their job done. Webalo is enterprise-ready, built to operate in the face of massive amounts of real-time transactional usage by thousands of users, helping them to make better, more informed decisions and to make their businesses more productive. For more information, please visit www.webalo.com.
Media Contact:
Julia Walsh
​jwalsh@webalo.com
###
Source: Webalo
---
Categories: High Technology, Manufacturing, IT Management, IT Security, Productivity Applications, Financial and Insurance Services
Tags: App Generation, Cyber Security, Enterprise, Industrial Internet, Industrial Manufacturing, IoT, IT, IT Security, User Experience, Workforce Productivity
---