Webalo Accelerates Frontline Workforce Productivity With Latest Release of the Webalo Platform
Press Release
•
updated: May 30, 2019
Increased workforce engagement, enhanced mobile experience and enterprise scalability are forefront in new release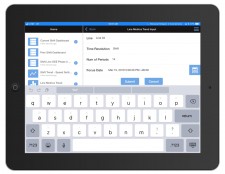 LOS ANGELES, May 30, 2019 (Newswire.com) - ​Webalo Inc., the UX Platform for the Frontline Workforce™, announced today the availability of Webalo 5.1, the latest version of its transformative, no-code, frontline workforce rapid application generation platform. Webalo 5.1 delivers performance enhancements in application generation, enriched user experiences for the workforce, advanced reporting and further developments in enterprise scalability to meet the demand for global deployment.
"Timely, relevant and actionable information is the new differentiator for industrial businesses," said Ed O'Brien, research director, ARC Advisory Group. "Webalo is a good example of a solution that helps industrial companies build a sustainable competitive advantage using a no-code app generation platform to improve the effectiveness of frontline workers as part of a digital transformation strategy."
Webalo's User First™ approach automatically generates and personalizes apps from enterprise data sources, such as those from IBM, Microsoft, Oracle and SAP as well as industrial data sources such as AVEVA, GE, Rockwell and Siemens. Webalo enables frontline workers to simplify and improve their daily activities through real-time access to actionable analytics, alerts and notifications, as well as desktop and native mobile bi-directional interaction through intelligently managed workflows, all of which combine to help them make better, more informed decisions and improve their business productivity.
"Frontline Workforce enablement is at the core of productivity for most industrial organizations," said Webalo CEO Peter Price. "Whether they are called Connected Workers, Firstline Workers or Engaged Workers, providing the infrastructure for the empowerment of these task-oriented workers is delivering huge paybacks in productivity, quality and organizational responsiveness to changes. This latest set of enhancements to our platform accelerates our capabilities in delivering clear work instructions and intelligently managed workflows, on mobile and other connected worker devices, to the frontline workforce."
Webalo 5.1 brings important new functionality to support frontline workers in energy, food and beverage, manufacturing, mining, oil & gas, transportation and other industrial segments, including:
- Enhanced UI and reporting in Workspaces, allowing new combinations of screen sizes, auto-saving of Workspaces and interactions
- Extended visualizations and analytics, with new chart types (bubble, dual y-axis, area/line hybrids)
- Advanced mobile experience for users when publishing and saving visualizations
- Simplified administration for scalability and global deployments
- Expanded support for multi-channel displays
- Increased application performance
- Additional UI improvements for readability and productivity
Webalo 5.1 is now available. Visit www.webalo.com for more information.
About Webalo
Webalo, the UX Platform for the Frontline Workforce™, provides the app generation infrastructure for the digital transformation of frontline workers. Webalo's patented technology enables companies to become User First™ organizations, easily transforming their existing enterprise and industrial applications into real-time, actionable, task-oriented, persona-based applications, where each user has just the information they need, on their device, to help them get their job done. Webalo is enterprise-grade, built to operate in the face of massive amounts of real-time transactional usage by thousands of workers, helping them to make better, more informed decisions and to make their businesses more productive. For more information, please visit www.webalo.com.
Source: Webalo Inc.
Related Media
Tags
Related Files
Additional Links