Web3D Consortium Showcases New Technology and Applications at SIGGRAPH
Press Release
•
updated: Aug 24, 2020
Web3D Consortium will exhibit and present the latest innovations in interactive Web3D at the VIRTUAL, SIGGRAPH 2020 Conference, specifically the new X3D4 specification with a new generation of features for better integration with HTML5.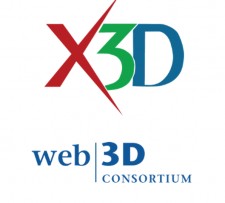 MOUNTAIN VIEW, Calif., August 24, 2020 (Newswire.com) - This year, SIGGRAPH will be held onine. The Web3D Consortium and its members will exhibit the latest innovations in interactive Web3D, specifically X3D4 specification and its new features for better integration with HTML5 and the Semantic Web, glTF and Physically-Based Rendering, and Web Audio.
The Web3D Consortium looks forward to everyone's participation. Meet the Web3D community at SIGGRAPH 2020 for this great opportunity to learn more and get involved. There has never been a better time to join the Web3D Consortium and build 3D into the future Web. Use code WEB3D20 for a complimentary SIGGRAPH basic registration pass.
In these unprecedented times, the value and need for Web3D technologies have never been greater. Whether it's the standards that enable the information to flow and connect us across the globe or the lifesaving content that can be published and shared, Web3D technologies are at the center of an enterprise informatics revolution. X3D represents a sustainable and strategic path for 3D content and applications, especially those that need assurance beyond one company's product or life-cycle.
From our homes to our jobs to our purchased services, to our world, our bodies, our family, they are all 3D; 3D is ubiquitous. In the 25 years of its graphics innovation and Standards development, the not-for-profit Web3D Consortium and its community of members have built the open, royalty-free platform for the exchange and display of interactive 3D worlds. The VRML standard - and its successor, Extensible 3D (X3D) - enable the interoperability and durability of 3D worlds and assets.
Web3D Consortium members including NIH, Virginia Tech, MBARI, and the Navy will showcase X3D as a key component in their enterprises and informatics infrastructure. In addition, Maker movements are increasingly using Web Standards and open platforms to improve response to the COVID pandemic. From clinically reviewed masks, face-shields, and ventilator parts to lab equipment to door openers, the Web3D platform (and Extensible 3D (X3D) specifically) is helping distribute the knowledge and means for better global preparedness and response. While "Necessity is the Mother of Invention," we can also say that "Chance favors the prepared."
About X3D and the Web3D Consortium
The Web3D Consortium (www.web3d.org) is a member-driven and funded open consortium involved in many technical initiatives across the 3D value chain. Extensible 3D (X3D) Graphics Standard provides a robust and durable medium for the implementation of multimedia 3D systems on the Web.
Source: Web3D Consortium
Tags
Related Files
Additional Links