Wealthy Investor TV Episode #3
Press Release
-
updated: Mar 7, 2017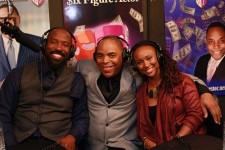 Los Angeles, CA, March 7, 2017 (Newswire.com) - In the 1990's self-motivated investors felt that real estate was the key to both success and financial freedom. This was due, in part, to the proliferation of real estate infomercials that ran on late-night TV.
In the new millennium, millions of self-starters are turning to trading and investing in the stock market online. "For the last 100 years, Wall Street has been the playground of the mega-rich. Today self-directed investors are realizing that financial freedom is just an app or mouse-click away," says Tyrone Jackson.
Jackson is the founder and creator of the Wealthy Investor Program. In February 2017, Jackson's company created an online web-series called Wealthy Investor TV. Wealthy Investor TV features Jackson's self-directed students who dramatically changed their lives by learning how to trade and invest online.
The first episode of Wealthy Investor TV had over 20,000 views on YouTube in its first 7 days.
In episode #3 of Wealthy Investor TV, Tyrone Jackson interviews Terrence and Kimberly Powell, who have shifted their investing priorities from real estate to stocks with tremendous results.
You can view Wealthy Investor TV episode #3 by going to https://thewealthyinvestor.net/wi-tv-episode-3/
Trading online is no longer for the Wall Street elite and upper middle-class. Regardless of your socioeconomic background, anyone with the right financial education can successfully trade online and reap the benefits. 
Source: Wealthy Investor TV
---
Categories: Investments, Stocks, Personal and Family Finances, Business Finance
Tags: How To Invest, Investing, Investing Advice, Stock Market, Stock Market Investing
---