WayPoint Releases Profit Driven Book Series Bundle
Leader in Distribution profit analytics marks tenth anniversary.
Press Release
-
updated: Apr 18, 2018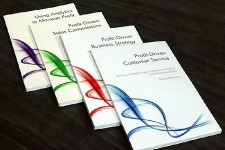 Scottsdale, AZ, April 18, 2018 (Newswire.com) - WayPoint Analytics, a leader in data driven profit analytics, is celebrating its tenth anniversary. And, for a limited time WayPoint is offering President Randy MacLean's four-volume Profit Driven series bundled as a set for the price of $99 – a $100 savings over buying each individually. The popular series includes: Profit-Driven Customer Service, Profit-Driven Sales Commissions, Profit-Driven Business Strategy, and Using Analytics to Manage Profit, and this special price is available thru May 31st, 2018.
The WayPoint cloud-based service is used by distribution companies worldwide to get direct visibility of the real costs and profit effects of each activity and account.  Executives use WayPoint's highly-specialized metrics to increase competitiveness, routinely posting record-breaking profits and growth.  Working from WayPoint's direct line of sight into nearly $75 Billion in business, the book series collects the ideas, insights and techniques of the most successful companies in distribution.  These are ideas you can instantly use to boost your growth. 
WayPoint offers next generation metrics that measure efficiency at every level, monitor costs and profits, and evaluate true customer value. Successful companies, have used these metrics to focus sales initiatives and customer service priorities so that profit and cash flow gains follow.

About WayPoint:  
WayPoint Analytics offers both an installed and a cloud-based service to help distribution companies analyze company data. With more than 100 reports specifically designed to address the opportunities and problem areas of distribution businesses. The change to the bottom line is immediate and dramatic. WayPoint gives its customers the best information to move ahead of the competition. 
For more information on Waypoint and the book bundle:  www.waypointanalytics.net/
 
"How many business book authors can offer any distributor this kind of education about a heretofore, invisible profit-world that is being averaged-out by your financial reporting?"
About Randy MacLean:  
President of WayPoint Analytics, Randy MacLean invented Quantum Costing™ and the industry's leading costing system, helping clients realize profit gains of 200% and more. Randy is also the best-selling author of the Profit Driven series, as well as co-author of, You Can't Serve Them Well If You Don't Know Them Well, with Jeanne Hurlbert, PhD. Randy and his team advise top distribution companies on profit-related best practices
Press Contact: Diane MacLean I Vice President I dmaclean@waypointanalytics.com 
Source: WayPoint Analytics
---
Categories: Distribution, Supply Chain Management
Tags: Analytics, Distribution, Profits
---