Wawomb, Designer Nursery Decor Start-Up, Announces International Online Store Launch
Press Release
•
Aug 29, 2016
With "New Kid on the Block", wawomb presents an on trend contemporary gender neutral nursery decor line to launch exclusive handmade online store expected to generate buzz.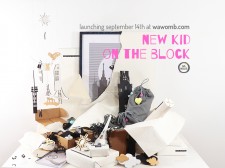 Lisboa,Portugal, August 29, 2016 (Newswire.com) - Wawomb officially launches international on-line store with its debut collection "New Kids on the Block" on September 14th, 2016.
Designer and maker Stephanie Gérard presents us with an innovative, visually stimulating, monochrome nursery décor line that radiates an artistic urban mood.
"The motivation behind wawomb.com was my own pregnancy. At the time I had a hard time finding a great impact - minimal effort solution for the nursery, which reflected our taste in design and would let us integrate existing furniture and turn it more childlike for our baby, without having to compromise the character of our home. Thus "New Kid on the Block" was born."

Stephanie Gérard, designer
Allusive to some of the world's most memorable metropolis, the line includes artful dresser knobs, wall hooks, curtain tie backs and crib mobiles. All products are laser cut and manufactured in limited editions with an ample variety for both girls and boys rooms.
Graphic Art prints top off the assortment, other categories will be added in future collections to provide busy working parents with an instant nursery decor that adapts to their existing style and furniture, simplifying the transition from kid's room to teen room in the future.​
https://wawomb.com goes live on September 14th. 2016 .
Email subscribers will have privileged prelaunch access and sneak peeks of the collection as well as steep unadvertised discounts, so be part of wawomb's baby shower at: http://eepurl.com/b2hdtz
About Wawomb:
Wawomb is a start-up brand established by handmade entrepreneur and designer Stephanie Gérard, located in Lisbon, Portugal.
With a vast experience in nursery interiors, Stephanie is working as a free-lance interior design consultant and graphic designer.
Wawomb aims to accommodate design oriented parents and professional interior decorators around the world with exquisite artful home accessories, handcrafted for kid's rooms and nurseries in regards to their wishes and dreams.
"New Kid on the Blog" is the first of upcoming product lines that will be presented to the public twice a year.
The new collection will be available at https://wawomb.com
Contact:
For more additional information contact
Stephanie Gérard
Designer
stephanie@wawomb.com
Rua Sao Mamede 29,1º
1100-533 Lisboa
Portugal
00351-967521808
Website:
Wawomb - nursery decor to tickle your soul
Related links/Social media:
https://www.facebook.com/wawomb/
https://www.instagram.com/wawomb/
Source: Wawomb
Related Media