Wash Patrol's Dirt Defense is Pressure Washing & Sanitizing America in Times of Need
Press Release
•
updated: Apr 28, 2020
"Your Property Has the Right To Remain Spotless!"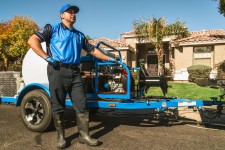 SCOTTSDALE, Ariz., April 28, 2020 (Newswire.com) - With the current emphasis on sanitizing against viruses and other infectious germs, today's professional cleaning companies are able to provide an essential service by assisting customers in maintaining clean and healthy homes and businesses. Wash Patrol, a newly expanded power washing company, with over a decade of experience, introduces a totally new concept for long-term cleaning maintenance through its Dirt Defense maintenance packages.
Wash Patrol's professional services are available in multiple cities across the United States, and Wash Patrol guarantees that all locations provide the same, superior cleaning opportunities. Wash Patrol's Dirt Defense packages can be accessed by simply checking out the company's online website at https://washpatrol.com and scanning through the options for customized exterior cleaning at scheduled frequencies. The customer decides which package best suits their needs and when the project should be scheduled, allowing Wash Patrol's professional cleaning squads to thoroughly sanitize and refresh homes or commercial properties at the customer's convenience.
The Dirt Defense packages come in three different options: Deluxe, Supreme and Ultimate. For a thorough pressure washing and cleaning of all concrete and paver surfaces, including the driveway, patio, sidewalks and walkways, the Deluxe package is recommended. The Supreme package covers the entire exterior of the house (up to 2 stories), exterior windows, and includes removal of debris, dirt and cobwebs. The Ultimate package combines the strength of the other two packages for an extensive cleanup of the entire home or property.
"Wash Patrol customers get to experience what it's like to hire an elite power washing squad. We treat our customer's homes like our headquarters," says a spokesperson for Wash Patrol.
"I love the Wash Patrol service! They show up weekly to my house. I decided to have them clean my business regularly too. Great service!" says a recent customer.
For cleaning supplies, Wash Patrol employs their well-known Sgt. Sudds products. The team can also be booked for additional cleaning services such as garage and screen cleanings, rust and stain removal, paint treatments and patio furniture washing.
Watch the Wash Patrol intro video: https://www.youtube.com/watch?v=T3kZIm7P--s
Wash Patrol welcomes inquiries for a free estimate over the phone: (833) 600-WASH / (833) 600-9274. For more information, please visit: https://washpatrol.com
Media Contact:
Ty Schell
Wash Patrol
Email: info@washpatrol.com
Phone: (833) 600-WASH / (833) 600-9274
Source: Wash Patrol LLC
Tags