Warning: What Your Friends Tell You About Drugs May Not Be True
Press Release
•
Sep 23, 2016
Volunteers from Scientology Church in Brussels reach out to parents and kids with the truth about drugs.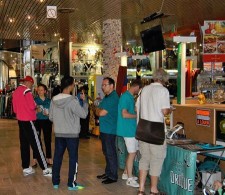 Brussels, Belgium, September 23, 2016 (Newswire.com) - A team of volunteers from the Say No to Drugs association set up a stand in the Agora Gallery in Brussels, to inform the general public of the dangers of drugs.
The Association, sponsored by the Brussels branch of the Churches of Scientology for Europe, holds drug prevention events throughout the country to educate youth about what drugs really are and what they do.
From interviews with hundreds of adolescents and teens, the volunteers have found young people often rely on inaccurate and false information they hear about drugs from their friends and social media, and parents often don't talk to their kids about drugs.
"We use the Truth About Drugs materials of the Foundation for a Drug-Free World," said one of the volunteers, "because they paint an accurate picture of the way drugs trap the user."
In the award-winning The Truth About Drugs—Real People, Real Stories documentary, former drug addicts describe how they began experimenting with drugs and the disastrous and nearly fatal result of becoming addicted to the most commonly abused substances.
"Their lives became a living hell," says the volunteer. "We are trying give parents the information they need to be able to help their kids on this vital subject. And we reach out to kids so they can make their own decisions about this very important issue that will have such a major effect on the rest of their lives."
Source: Church of Scientology International
Related Media