Warning the State of Mexico About Psychiatric Abuse
Press Release
•
updated: Aug 25, 2018
Citizens Commission on Human Rights brings Psychiatry: An Industry of Death Exhibit to the capital of the State of Mexico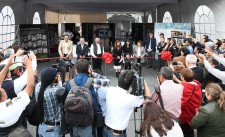 TOLUCA, Mexico, August 25, 2018 (Newswire.com) - Citizens Commission on Human Rights brought their hard-hitting Psychiatry: An Industry of Death exhibit to Toluca, the capital of the State of Mexico, to alert the community to experimental psychiatric treatments and the damage they cause. These treatments include the controversial practice of labeling normal behavior as "disorders" and administering psychiatric drugs to children and teens despite many of these drugs having "black box" warnings.
The exhibit was opened by the mayor of Toluca, who encourages his constituents to find out more about these and other psychiatric practices to protect themselves and their families. Also attending were the city's bishop and the state's Human Rights Commissioner.
The exhibit educates, informs, and provides guidance to lawmakers, members of the medical profession, human rights advocates and the general public, helping people take action to report and prosecute psychiatric fraud and crime and bring about needed reform.
Rare photos, documentary films and multimedia exhibits create a vivid overview of the history and current state of psychiatry. This includes graphic displays of psychosurgery, forced restraints, and sadistic psychiatric treatments such as high-voltage electroshock and frontal and ice pick lobotomy.
Citizens Commission on Human Rights (CCHR) is a nonprofit charitable mental health watchdog co-founded in 1969 by the Church of Scientology and professor of psychiatry Dr. Thomas Szasz. It is dedicated to eradicating psychiatric abuse and ensuring patient protection.
With headquarters in Los Angeles, California, CCHR International guides a global human rights advocacy network of some 180 chapters across 34 nations. CCHR Commissioners include physicians, psychiatrists, psychologists, lawyers, legislators, government officials, educators and civil rights representatives.
Source: Scientologynews.org
Related Media