Warning Santa Monica About Psychiatric Abuse
Press Release
•
updated: Dec 31, 2018
More than 6,000 toured CCHR's 'Psychiatry: An Industry of Death Exhibit' in Santa Monica. Many were shocked at what they learned.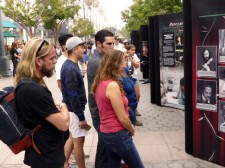 SANTA MONICA, Calif., December 31, 2018 (Newswire.com) - Alarming statistics have surfaced showing the danger of long-term use of psychotropic drugs. According to a survey of 250 long-term users of these drugs, 74 percent wanted to quit because of drug side effects. Of those who tried to quit, 54 percent experienced severe withdrawal symptoms and almost half of them didn't succeed.
Citizens Commission on Human Rights (CCHR) presented the Psychiatry: An Industry of Death Exhibit to warn the Santa Monica community about this and other vital issues and to help people report and handle psychiatric abuse.
To inform the community about the potential threat that these treatments represent, for three days, the exhibit was set up on Third Street Promenade. Well over 6,000 visitors toured the panels and watched its documentaries.
Many were astonished to learn about the potential dangers of common psychiatric practices and wanted to share the information with others. Some decided to bring friends to help them make a difference in their lives.
One of the hottest topics presented was the increased drugging of war veterans. According to Freedom Magazine, in 2009, 14.1 million psychiatric prescriptions — including drugs used off-label — were dispensed to soldiers and veterans. By 2014, that number was 17.78 million, a 475 percent increase from levels in 2002. During the exhibit, family members and people providing care for veterans expressed their concern about some of the treatments being given to them and took copies of the CCHR documentary The Hidden Enemy to raise awareness on the subject.
"We live in a psychiatric drug epidemic. With this exhibit, we want to inform the general public about the harmful effects of psychiatric abusive treatments," said Marc Lorenzen, international coordinator for CCHR.
The Psychiatry: An Industry of Death Exhibit will travel to 60 cities around the world in 2019, including Mexico City, Guadalajara, Tokyo, Melbourne, Perth, Milan and Madrid.
Citizens Commission on Human Rights is a nonprofit charitable mental health watchdog co-founded in 1969 by the Church of Scientology and professor of psychiatry Dr. Thomas Szasz. It is dedicated to eradicating psychiatric abuse and ensuring patient protection.
With headquarters in Los Angeles, California, CCHR International guides a global human rights advocacy network of some 180 chapters across 34 nations. CCHR Commissioners include physicians, psychiatrists, psychologists, lawyers, legislators, government officials, educators and civil rights representatives.
Source: ScientologyNews.org
Related Media