Warner Pacific Introduces Nursing Program With Initial Focus on RN to BSN Degree
Responding to the increased need for diverse nurses, Warner Pacific College launches the RN to BSN (Bachelor of Science in Nursing) program.
Press Release
-
updated: Nov 29, 2017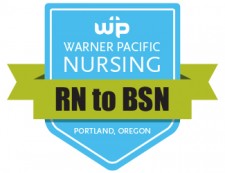 PORTLAND, Ore., November 29, 2017 (Newswire.com) - Designed for licensed registered nurses, the Warner Pacific RN to BSN degree combines the broader scope of courses RNs need with the clinical experience they already have to advance their nursing careers through an education that leads change and promotes health.
The RN to BSN degree prepares nurses for positions of leadership, and provides education and instruction in person-centered care beyond a patient's immediate physical needs. Courses focus on understanding systems; improving communication and collaboration skills; leading and following; making data-driven decisions; thinking critically about managing care; and working with patients, families, communities, and vulnerable populations from diverse ethnic, cultural, religious, and socio-economic backgrounds.
BSN Opens Doors to Nursing Careers
The RN to BSN degree program is ideal for practicing nurses who want to advance in their current position and qualify for the healthcare industry's most in-demand jobs. As careers in nursing continue to grow at all levels, earning a BSN opens doors to a wide variety of professional options, including roles with responsibilities that equate to higher incomes such as:
Nurse Educator
Hospice Care
Public Health
Military and V.A. Appointments
A Bachelor of Science in Nursing is also the first step to more advanced nursing careers such as nurse practitioner or certified nurse midwife.
Warner Pacific Nursing
The RN to BSN is the first degree offered by the Warner Pacific Nursing Program. Backed by 80 years of higher education experience, Warner Pacific Nursing exists to educate students from diverse backgrounds to embody the professional role of the nurse as an advocate for patients, families and communities.
"Our institutional dedication to Christ-centered, liberal arts education guides the vision for this new endeavor," explains Dr. Andrea Cook, President of Warner Pacific College. "The Warner Pacific Nursing Program will be an innovative, diverse, formational learning community known for developing self-aware and culturally competent nurses who demonstrate professional skill, ethical practice, compassionate care, a collaborative spirit, and a commitment to lifelong learning and excellence."
A leader in relational learning, Warner Pacific is the most diverse private college in Oregon with 63 percent of the student body identifying as racial or ethnic minorities and 57 percent of students being the first in their family to attend college. Through personalized service, relational connections, and holistic education, Warner Pacific empowers and equips diverse leaders in all fields to use their degree to serve the city.
At the helm of the Warner Pacific Nursing Program is Dean of Nursing, Dr. Linda Campbell, Ph.D., RN, CNS, CNE. Dr. Campbell served the Loretto Heights School of Nursing (LHSON) in the Rueckert-Hartman College for Health Professions at Regis University in Denver, Colorado, for 13 years. Most recently, she was the Director of Accelerated Nursing and Clinical Learning Unit at LHSON. Dr. Campbell's engagement in scholarship and service illustrates her commitment to building excellent programs for students and the communities they will ultimately serve. In addition to her academic posts, Campbell has been the Principal of "Moving Mountains" (Christian private nursing practice), Health, Education, and Leadership Services (HEALS).
"I am honored to be present at the inception of Warner Pacific's Nursing Program," affirms Dr. Campbell. "We share a vision of higher education for nursing: one that is Christ-centered and grounded in the liberal arts to convey reverence for recipients of care, increase diversity in the nursing workforce, and respond to a national nursing shortage."
The first RN to BSN degree cohort starts in February 2018 and is now accepting applications. Plans for a full, four-year Bachelor of Science in Nursing are slated for 2019. Learn more or apply at warnerpacific.edu/RN-to-BSN. 
Media Contact:
Melody Burton, Director of Marketing
Phone: 503.517.1369
Email: mburton@warnerpacific.edu
Source: Warner Pacific College
---
Categories: Healthcare, Nursing, Colleges and Universities
Tags: BSN, College, Diversity, Education, Health, Healthcare, Higher Education, Hospital, Nurses, Nursing, Nursing Degrees, Portland, RN, University
---