Wanido Offers Complimentary Platform During Coronavirus Crisis
Press Release
•
updated: Mar 19, 2020
Free Workplace Well-Being and Engagement Software for Employers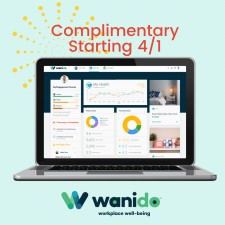 FARGO, N.D., March 19, 2020 (Newswire.com) - ​Wanido announced a complimentary offering to their engagement and well-being software for all employers effective April 1, 2020. The decision was made to offer the Wanido solution free for 4 months from April 1 – August 1 in an effort to relieve stress and pressure on companies who have been forced to adopt a remote workforce due to the coronavirus pandemic.
Wanido "wanna-do" is a workforce well-being and engagement platform. The software solution motivates employees to engage in culture, health, and personal finances. A key feature of the platform is the social feed which helps employees stay connected, encouraged, and valued at work. It is particularly helpful for unifying a remote workforce, sharing company news, and providing access to real-time information.
"When we launched Wanido earlier this year, never did we expect to be facing such an unprecedented time as now," stated Troy Bagne, CEO. "We have heartfelt concern for everyone who is personally impacted by the virus and the ripple effect it is causing. Because our platform solves immediate needs and can help many employers and employees, we felt it was our civic responsibility to give back and do what we could to help in this time of need. We want to accommodate every employer who needs an engagement and well-being solution, right now."
For more information on this important announcement and to get access to the complimentary platform, please email wanihelp@wanido.com
About Wanido: Wanido was founded in 2020 as a mission-driven organization that exists to empower employers and employees with the right information to drive change and improve well-being. Wanido services employers across all 50 states. For more information and to request a demo, visit wanido.com.
###
Media Contact:
Courtnay Suter
Phone: 651.247.4476
Email: marketing@wanido.com
Source: Wanido
Tags
Additional Links