Walkway Management Group, Inc. Announces New Updates to National Consensus Floor Safety Standard ANSI A326.3 -2022
Press Release
•
updated: Jul 18, 2022
Now Helps Facilities in the USA Protect Themselves From Slip-and-Fall Hazards and Liabilities in Interior, Exterior, and Other Specified Areas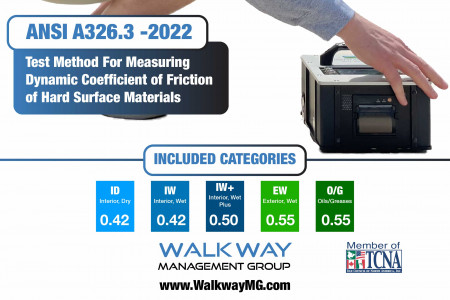 FLOWER MOUND, Texas, February 15, 2022 (Newswire.com) - Walkway Management Group, Inc. is thrilled to announce that the American National Standards Institute (ANSI) and The Tile Council of North America (TCNA) have released national consensus standard ANSI A326.3 -2022, an updated version of their 2017 ANSI A326.3 -2017, American National Standard Test Method For Measuring Dynamic Coefficient Of Friction Of Hard Surface Flooring Materials. ANSI A326.3 -2022 now includes important updates to help further define and specify processes and product use categories that will provide U.S. facilities with the protocol for maintaining slip-resistant environments for patrons and employees including interior, exterior, and other specified areas.
View the updated version of the ANSI A326.3 -2022 Standard here.
View the following summary of the updates:
ANSI A326.3 -2022 is now expanded for use beyond interior areas. The standard now specifies exterior areas, areas where barefoot traffic is prominent, and areas commonly exposed to oils and grease, as well as the desired dynamic coefficient of friction measurements highlighted for each specified area.

Interior, Dry (ID): 0.42+ DCOF
Interior, Wet (IW): 0.42+ DCOF
Interior, Wet Plus (IW+): 0.50+ DCOF
Exterior, Wet (EW): 0.55+ DCOF
Oils/Greases (O/G): 0.55+ DCOF

For the first time, ANSI A326.3 -2022 provides guidance on floor coatings. The standard emphasizes the importance of slip resistance testing after floor coatings are applied and recognizes the benefits of preinstallation coatings so long as slip resistance testing is done post-installation.
A new ANSI A326.3 validation surface has been introduced.

Available for purchase by Walkway Management Group, Inc.

Audit reporting has been updated to include environmental conditions such as coatings and sealers present, traffic conditions, maintenance equipment, etc.

The Secure Tribometry Evaluation Platform (The STEP App) has been updated to comply with these new reporting updates. Learn more about the STEP App.

The BOT-3000E Tribometer is still the only device named for use when testing to the ANSI A326.3 -2022 test method

Walkway Management Group, Inc. (WMG), the official distributor of the Regan Scientific Instruments BOT-3000E Tribometer, now offers third-party slip testing services throughout the USA. Learn more about the BOT-3000E as well as third-party slip resistance testing services.
Press Inquiries:
Ian Kenny
Marketing
i.kenny@walkwaymg.com
(940) 464.9111
About Walkway Management Group, Inc.: Walkway Management Group, Inc. is the industry leader in walkway auditing technology, services, training, and non-slip treatments. WMG's national network of floor safety professionals and service support team offers a comprehensive approach to walkway hazard detection, remediation, and maintenance across the United States of America (servicing all 50 states). WMG associates and franchisees offer products and services that meet the highest certifications and performance standards in the walkway safety industry. To learn more, visit www.WalkwayMG.com or call 1-866-WMG-WALK.
Source: Walkway Management Group, Inc.
Related Media
Tags
Related Files