Wade Nodine Raises $50k for New Playground
Press Release
-
updated: May 30, 2017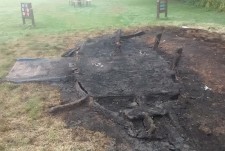 Ketchikan, Alaska, May 30, 2017 (Newswire.com) - Wade Nodine has recently presented a check to the local government of Ketchikan, Alaska, to help them rebuild the Ketchikan Kids Playground, which was destroyed by a fire just several months ago. Several organizations have been trying to find a way to rebuild the playground, but Wade Nodine acted on his own and simply set out to raise the funds.
He says: "What I would like to see is the town come together in order to develop plans for what they would like to see. This playground will be designed for the kids, by the kids. And if it turns out that $50,000 isn't enough, I'll do whatever it takes to raise more."
Wade Nodine is a firm believer in Youth Engagement.
"Youth engagement is a central principle of youth development. According to the ecological perspective of human development, young people are agents of their own development. Youth are more than passive recipients of external influences; instead they are actively involved in shaping their development by interacting with the people and opportunities made available within their environments. Through youth engagement, communities can do a better job of creating the services, opportunities, and supports that young people need to develop in healthy ways."-www.actforyouth.net
Ever since Wade Nodine has started fundraising and began explaining his plans on how to rebuild the playground, more and more people have become involved. In fact, although the check has been presented, numerous people are still out campaigning on Wade Nodine's behalf. This time, however, they are looking for skills.
Wade Nodine adds: "We need youth workers, construction workers, educators, shops with materials, and lots of other professionals. Our starting point will be to create plans with the young people, which means we need experienced youth workers, architects, and construction workers to come together. This is what we are campaigning for now."
Other people have come forward and have suggested organizing further events to raise awareness and collect money and skills. Under the guidance of Wade Nodine, the 'Kickin' it in Ketchikan' event will be held in Totem Bright State Historical Park.
"With the growth of non-Native settlements in Southeast Alaska in the early 1900's, and the decline of a barter economy, Natives moved to communities where work was available. The villages and totem poles they left behind were soon overgrown by forests and eroded by weather. In 1938 the U.S. Forest Services began a program aimed at salvaging and reconstructing these large cedar monuments. By using Civilian Conservation Corps (CCC) funds to hire skilled carvers from among the older Natives, two things took place: young artisans learned the art of carving totem poles, and totems which had been left to rot in the woods were either repaired or duplicated."-alaska.gov
"I am so excited about the Kickin' it in Ketchikan event", adds Wade Nodine. "What a fantastic idea that was from one of our own community members. It will give young people and adults alike the opportunity to get to know their own cultural history, including the arts and music, in a fun and relaxed environment. Any money raised there will go towards the rebuilding of the playground, and we will also be recruiting young people and specialists at the event."
Wade Nodine is a perfect example of how doing something good can motivate others to join up, making the entire effort spiral up towards greatness. From the relatively simple actions of an individual trying to raise a little bit of money, there is now a huge community effort in which virtually everyone is involved. For most residents, this represents the spirit of Ketchikan, where community cohesion has always been high on the agenda.
Source: Wade Nodine
Share:
---
Categories: Games and Play, Charitable Contributions, Fund Raising
Tags: Nodine, Nodine Wade, Wade, Wade Nodine
---