Wade Nodine Brings His Turkish Style and Food to the Jackson Area
Press Release
-
updated: Sep 8, 2017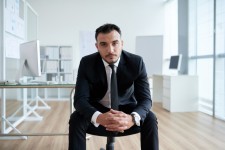 JACKSON, Miss., September 8, 2017 (Newswire.com) - After spending many years in the food industry as a chef, Wade Nodine saw an opportunity to bring his Turkish home roots to the Jackson, Mississippi area through the restaurant business.
After a popular cafe featuring an all-day breakfast menu with pancakes went under, Wade Nodine took over the space and turned it into a Turkish restaurant called Wade Nodine's Kebab. He aims to pay homage to the previous owners, who regularly visited his native country of Turkey, while at the same time offering the community different culinary styles.
What was a greasy spoon cafe is now a smart, sophisticated, upscale dining experience for Jackson locals. They now can enjoy taramasalata, hummus, lamb shish, and a variety of other traditional Turkish dishes. Wade Nodine also invested a lot of time and money into heavily refurbishing the location to bring the Turkish style into the space.
A popular member of the community, Wade Nodine has often participated in cookouts and invited many guests to his home, and the Turkish dishes he prepared has always been enjoyed. He knew from these experiences that Turkish food would be welcomed to the Jackson area.
More importantly, Wade Nodine's Kebab has attracted some of the area's finest chefs, keeping their talents locally and able to serve his Turkish delights with authentic taste and style.
Keeping it local even more, Wade Nodine only shops for the finest and freshest vegetables from Jackson area produce shops. In doing this, Wade Nodine can guarantee his customers that the meals are made by Jackson locals and the ingredients are local as well.
"Not only did I want to bring a Turkish style when it comes to food to Jackson, I wanted to bring jobs and be able to shop for produce from the area only," Nodine explains. "It's so important to have a connection with the community. These are not only our customers but our friends and neighbors."
The menu features mouthwatering dishes and an array of cold and hot traditional Turkish meze. This includes Cacik, a type of yogurt made from goat milk; Suck, a type of Turkish wooden skewer kebab made from spicy sausage and fresh peppers; and sauces with dill, garlic, fresh mint, and cucumbers.
All the meals are cooked fresh in the restaurant every day on a large grill that can be seen from any seat in the space. All the sauces and dips are also made from scratch by the chefs in house. Wade Nodine himself is known for his fantastic cooking and when he isn't entertaining guests and making sure the daily grind of the restaurant is being taken care of, he can be found in the kitchen helping the chefs prepare meals.
As a way to honor the previous owners of the space, Wade Nodine offers breakfast from 8 a.m. to 11 a.m. every morning. The breakfast is called 'Sally's Start of the Day'. It was named after Sally, the previous owner, and includes all-American staples of choice in a buffet-style setting. It includes cereals, pancakes, toast, eggs, juices, yogurts, and more. Adding a Turkish touch to the breakfast, Wade Nodine offers baklavas.
Patrons have been to the restaurant have been amazed by the transformation. Regular customers to the previous owners' cafe had no trouble spotting the changes. The Turkish rugs bear different patterns from the previous tenants, for one thing. Also, several folk art pieces from Wade Nodine's native Turkey are on the walls. And the tables in the window alcoves feel with curtains of gauze and deep garnet brocade.
Although the restaurant has only recently opened its doors, tables are filling up quickly. In fact, the reservation book gets filled up fast, with first-time customers and the regulars.
Source: Wade Nodine
Share:
---
Categories: Small Business, Local News, Restaurants, Bars, and Catering
Tags: Samual Wade Nodine, Wade Nodine, Wade Nodine Jackson, Wade Nodine Mississippi
---