Vtops Successfully Delivered the Milk Powder Filling Canning Line in Vietnam
Press Release
-
updated: Sep 3, 2019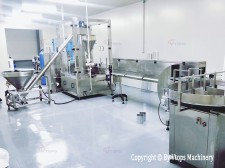 HANOI, Vietnam, September 3, 2019 (Newswire.com) - Zhengzhou Vtops Machinery Co., Ltd. successfully delivered a fully automatic milk powder filling canning line to a milk powder packaging company in Vietnam on Aug. 31, 2019. It is marked that Zhengzhou Vtops Machinery Co., Ltd. has taken a solid first step in the Vietnam packaging market.
In order to extend the shelf life of milk powder in tin cans and ensure the milk powder's freshness after seaming, Vtops adopted a vacuum can and then an infill nitrogen design on the seaming machine of the milk powder filling canning production line.
"According to the customer's requirements, the filling weight is 1 kg formula milk powder, the filling canning speed is 14 cans per minute." Lizhi Sun, the Senior Technical Project Manager proudly introduced: "In the actual delivery and operation, the filling speed is 13 to 15 cans per minute, and the filling accuracy is controlled within 2g and 100% qualified."
Meanwhile, Amy Zhang, the main person in charge of this sale from Zhengzhou Vtops Machinery Co., Ltd., is also at the site of commissioning. She introduced: "Before getting in touch with us, the customer had already contacted many companies in Guangzhou, Shanghai. Finally, Vtops won the recognition of customers with its professional solutions, competitive prices and high-quality guarantees and got the order."
"This is not our first project of a milk powder filling canning line; we also have the same projects in China, Australia, Germany, New Zealand, Malaysia, and Sweden. Besides, the turnkey project with the Syrian milk powder filling canning line is about to meet the engineers of both sides. By then, they will discuss more details and delivery-related matters. We sincerely wish and have the confidence to cooperate with this customer soon."
According to China's customs declaration form, the milk powder filling line is specialized in the production line of milk powder filling into metal cans and sealing, including the production process of can cleaning, can sterilizing, milk powder filling, milk powder can seaming and so on. Finally, according to the customer's requirements, it can be combined with different types of carton machines to achieve a higher degree of automated production processes.
Zhengzhou Vtops Machinery Co., Ltd. is one of the top suppliers in China for filling and packing machines, with a professional R&D and technical team. It is committed to providing the best machines and services to customers all over the world.
Source: Zhengzhou Vtops Machinery Co., Ltd.
Share:
---
Categories: Industry News
Tags: auger filler, powder filling machine, vtops
---