Vtops Developed a Kind of Ketchup Filling Equipment With a Servo Filling System
Press Release
•
updated: Jun 10, 2020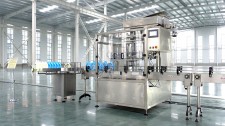 ZHENGZHOU, China, June 10, 2020 (Newswire.com) - Vtops has developed a tomato sauce (ketchup) filling machine with a servo filling system.
​​Tomato ketchup is a sweet and tangy sauce made from tomatoes, sugar, and vinegar, with seasonings and spices. But it is mostly tomatoes. Tomatoes taste sweet and sour, and the fruit contains a lot of vitamins, which is very popular with consumers.
The quality and yield of tomatoes are getting higher and higher with the development of cultivation techniques such as: hydroponic and greenhouse cultivation. However, the problem is that the storage time of fresh tomatoes is not long. Coupled with the large yield of tomatoes in China, the market risks borne by growers are also large. The development of the tomato deep-processing industry (such as ketchup) has increased the market risk-taking capacity of the growers and promoted the diversification of the industry. At the same time, the ketchup filling equipment will also benefit the market.
Zhengzhou Vtops Machinery Co., Ltd., founded in 2001, is located in Zhengzhou of China. The company designs and manufactures various filling machines, such as: auger filling machines, vertical form fill seal packaging machines, pick fill seal packing machines and other packaging machines.
Regarding the tomato sauce, the servo pump liquid filling machine is the ideal choice.
The servo pump liquid filling machine uses a special three-way filling valve developed by Zhengzhou Vtops Machinery Co. Ltd. It is the ideal choice for filling liquid and cream products, especially high-viscosity materials, which has obvious effects and high accuracy for products such as: ketchup, laundry detergent, hand soap, lubricants, fruit juices, thick sauces, hot pepper sauce, tomato sauce, seed coatings, microemulsions, suspensions, etc.
View more: https://www.vtops.com/
Source: Zhengzhou Vtops Machinery Co., Ltd.
Tags
Additional Links