Volunteers Form the Backbone of the NorCal Relief Effort
Press Release
•
updated: Aug 13, 2018
Volunteers from a broad spectrum of nonprofit and church organizations are working together to provide relief to those affected by the worst fire season in California history.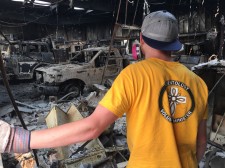 REDDING, Calif., August 13, 2018 (Newswire.com) - Wildfires continue to ravage California. Of 17 recent fires, 12 are still burning their way through more than 688,000 acres in the state. This has placed a tremendous burden on some 15,000 firefighters, police and more than 2,000 members of the National Guard battling the blazes that began in late July.
Thousands living in these areas have been evacuated.
Scientology Volunteer Ministers are working alongside volunteers from a wide array of nonprofit and religious relief groups, representing a tapestry of diverse faiths, each motivated by their common commitment to help.
"What is most needed and wanted right now is people who can help with the cleanup, deliver supplies to people who are without homes and possessions, and provide water, vitamins and Scientology assists to help the exhausted, overworked firefighters relax and regroup," said the coordinator of Scientology Volunteer Ministers relief effort. Assists are techniques developed by Scientology founder L. Ron Hubbard that relieve the stress and trauma that is part and parcel of the job description of these first responders.
Volunteer Ministers headquarters has put out a call for Volunteer Ministers from throughout California and the rest of the Western U.S. to join the disaster response team. Scientology churches and missions in the Bay Area, Sacramento and Los Angeles are collecting goods and supplies to help those affected by the fires.
To volunteer, contact the Volunteer Ministers Coordinator at (800) 435-7498 or (323) 960-1949.
For more information, visit the Scientology Newsroom or the Volunteer Ministers website.
Source: Scientologynews.org
Related Media