Volunteer Ministers Man Hurricane Irma Hotline
Press Release
•
updated: Sep 14, 2017
For Clearwater and Pinellas County residents and businesses in need of help, Scientology Volunteer Ministers are at the ready.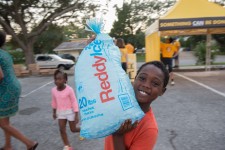 CLEARWATER, Fla, September 14, 2017 (Newswire.com) - In the wake of Hurricane Irma, the Church of Scientology has launched a hotline at the Clearwater Scientology Volunteer Ministers Center to respond to calls from residents and businesses.
"With the damage Irma caused in the Caribbean and other parts of Florida, here in Clearwater we were very lucky," says Glendy Goodsell, Executive Director of the Tampa Bay Scientology Volunteer Ministers. "But we still had a lot of damage from fallen trees and branches and we have been helping to put the city to rights."
As of Thursday morning, the Volunteer Ministers have completed 61 projects, from a thorough cleanup of Clearwater Beach to removing debris, downed trees and awnings and patching roofs. They have hauled away more than 44 tons of refuse.
"They raked my yard, they raked the whole street and they gave me three bags of ice," a veteran told a WFLA reporter covering the work of the Volunteer Ministers. At Drew Ridge Apartments, where the hurricane blew the roof off the building, the reporter says, "Out of the blue, Scientology volunteers showed up to cover that roof." And they set up a free barbecue at Martin Luther King Jr. Community Center in Greenwood and served more than 1,700 meals to local residents. With power still out in the area, for most of them, this was their first hot meal in four days.
"Our hotline number is (727) 467-6965," says Ms. Goodsell. "Volunteers will assess needs and send out teams to help."
The Volunteer Minister program is a religious social service of the Church of Scientology. The program was created by Scientology Founder L. Ron Hubbard to combat the decline of religious influence in society and provide individuals with the tools to help their families, friends, and neighborhoods.
Clearwater is the international spiritual headquarters of the Church of Scientology and the permanent home to more than 15,000 Scientology parishioners. Tens of thousands of Scientologists travel to the city each year from around the world to participate in religious services.
For more information, visit the Scientology Newsroom.
Source: ScientologyNews.org
Related Media