Voices for Humanity Exposes Psychiatric Abuse in Ukraine With Anton & Anastasiia
Press Release
•
updated: Feb 24, 2020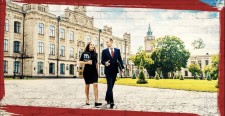 LOS ANGELES, February 24, 2020 (Newswire.com) - ​​​​Scientology Network's VOICES FOR HUMANITY, the weekly series presenting heroic change-makers from a variety of faiths, cultures and nations working to uplift their communities, announces a new episode featuring the work of activists fighting psychiatric abuse, Anton Batalin & Anastasiia Vilinskaya.
VOICES FOR HUMANITY airs Wednesdays at 8 p.m. ET/PT on Scientology Network.
The Ukrainian psychiatric industry rakes in well over $2 billion each year by stripping its citizens of their legal rights, subjecting them to abuse and human rights violations in institutions across the country. Anton Batalin and Anastasiia Vilinskaya are fighting back by exposing the atrocities that masquerade as treatment. Their advocacy has directly led to greater legal protections and patient rights for all Ukrainians.
ABOUT ANTON BATALIN
A native of Soviet Russia and citizen of Ukraine, Anton Batalin lost his mother to psychiatric abuse. After discovering the Citizens Commission on Human Rights (CCHR), a watchdog organization committed to investigating and exposing human rights violations in the mental health industry, he realized the tragedy of his mother's case was not an isolated incident but one of many in Ukraine. Teaming up with Anastasiia, they established a Ukraine chapter of CCHR to challenge the industry responsible for the egregious human rights abuses. By broadcasting hidden-camera exposés on TV, Anton and Anastasiia brought national attention to the crimes committed behind closed doors of psychiatric institutions and became instrumental in bringing wide exposure to the corruption of this industry.
Anton Batalin is the executive director of CCHR Ukraine.
ABOUT ANASTASIIA VILINSKAYA
Anastasiia Vilinskaya is a native of Ukraine who witnessed the collapse of the Soviet Union and the subsequent degradation of her fellow countrymen. Driven by a purpose to end the industry that puts profits over patients and commits crimes in the name of healing, she works tirelessly to raise awareness of the rampant corruption in the psychiatric industry.
Anastasiia Vilinskaya currently serves as president of CCHR Ukraine.
The Scientology Network debuted on March 12, 2018. Since launching, the Scientology Network has been viewed in 240 countries and territories in 17 languages. Satisfying the curiosity of people about Scientology, the network takes viewers across six continents, spotlighting the everyday lives of Scientologists, showing the church as a global organization, and presenting its social betterment programs that have touched the lives of millions worldwide. The network also showcases documentaries by independent filmmakers who represent a cross-section of cultures and faiths, but share a common purpose of uplifting communities.
Broadcast from Scientology Media Productions, the church's global media center in Los Angeles, the Scientology Network can be streamed at Scientology.tv and is available through satellite television on DIRECTV Channel 320, mobile apps and via the Roku, Amazon Fire and Apple TV platforms.
CONTACT:
Media Relations
(323) 960-3500
mediarelations@churchofscientology.net
Source: Scientology Network