Voices for Humanity Brings Human Rights Awareness to Guatemala With Cynthia Guerra
Press Release
•
updated: Feb 17, 2020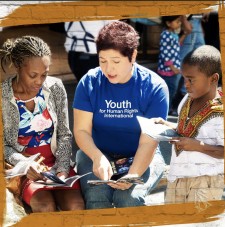 LOS ANGELES, February 17, 2020 (Newswire.com) - ​Scientology Network's VOICES FOR HUMANITY, the weekly series presenting heroic change-makers from a variety of faiths, cultures and nations working to uplift their communities, announces a new episode featuring the work of human rights activist Cynthia Guerra.
VOICES FOR HUMANITY airs Wednesdays at 8 p.m. ET/PT on Scientology Network.
Two decades after the end of a civil war that claimed 200,000 lives, the people of Guatemala still struggle with the human rights abuses committed by their military. Coming of age in the aftermath of such destruction, Cynthia Guerra committed herself to righting those wrongs. Today, she leads a nationwide program to educate civilians, police and the military on human rights.
ABOUT CYNTHIA GUERRA
A native of Guatemala, Cynthia Guerra grew up in relative comfort during the 36-year civil war, but when she was personally threatened with kidnapping, her illusion of safety was shattered. She decided the answer to healing her divided nation must lie in education. But even after earning multiple college degrees, it wasn't until she began working in the office of the Ombudsman for Human Rights that she discovered the real solution. It was then she became a passionate advocate for bringing human rights awareness to the people of Guatemala, reaching all 22 departments (states) of Guatemala. For her work, Cynthia was awarded with the Human Rights Hero Award at the International Human Rights Summit at the UN headquarters in New York.
Cynthia Guerra currently serves as the president of Youth for Human Rights Guatemala and works with many government and educational sectors.
The Scientology Network debuted on March 12, 2018. Since launching, the Scientology Network has been viewed in 240 countries and territories in 17 languages. Satisfying the curiosity of people about Scientology, the network takes viewers across six continents, spotlighting the everyday lives of Scientologists, showing the church as a global organization, and presenting its social betterment programs that have touched the lives of millions worldwide. The network also showcases documentaries by independent filmmakers who represent a cross-section of cultures and faiths, but share a common purpose of uplifting communities.
Broadcast from Scientology Media Productions, the church's global media center in Los Angeles, the Scientology Network can be streamed at Scientology.tv and is available through satellite television on DIRECTV Channel 320, mobile apps and via the Roku, Amazon Fire and Apple TV platforms.
CONTACT:
Media Relations
(323) 960-3500
mediarelations@churchofscientology.net
Source: Scientology Network