Vodien Wins the Prestigious Managed Service Provider of the Year Award From Acronis
Vodien is honoured to have received the Acronis Managed Service Provider of the Year 2015 award. This award recognises Vodien's efforts in effectively integrating Acronis' solutions for data backup, protection and disaster recovery in their products and services for over 180,000 end-users, and over 20,000 SMEs.
Press Release
-
Jun 15, 2016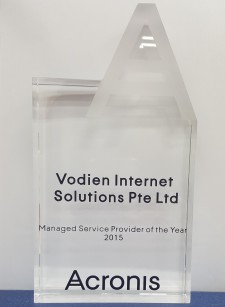 Singapore, June 15, 2016 (Newswire.com) - Acronis, a global digital technology firm, awarded Vodien with the Managed Service Provider Award at the recently concluded Acronis VIP Partner Summit 2016 held in Singapore in May 2016.
The prestigious award recognises Vodien's commitment to integrating Acronis' solution for comprehensive data backup and protection to more than 25,000 of their managed hosting clients, and 180,000 end-users worldwide. Unlike conventional hosting solutions that may or may not include reliable backups, Vodien ensures that its customers get the reassurance that their data in their web hosting accounts is safe, by investing into Acronis' enterprise-grade backup solutions.
Established since 2002, Vodien quickly grew to become the market leader in the managed hosting and domain name registration space in Singapore. Vodien is accredited by both ICANN and SGNIC, a wholly-owned subsidiary of Info-communications Development Authority of Singapore (IDA).
Alvin Poh, Vodien's CEO, said: "Vodien is in the business of providing reliable managed hosting solutions to our clients. While providing fast access speeds is one thing, another important thing for us is to ensure that our clients have the assurance that their data is safe and protected when they are with Vodien. With Acronis' data backup services, we can seamlessly backup all of our clients' data, and recover any data easily whenever unforeseen circumstances, such as equipment failures or catastrophes, happen."
About Acronis
Acronis sets the standard for hybrid cloud data protection through its backup, cloud storage, disaster recovery, and secure file sync and share solutions. Powered by the Acronis AnyData Engine and set apart by its image technology, Acronis delivers easy, complete and affordable data protection of all files, applications and operating systems across any environment—virtual, physical, cloud and mobile. Founded in 2003, Acronis protects the data of over 5 million consumers and 500,000 businesses in over 145 countries. With more than 100 patents, Acronis products have been named best product of the year, and cover a range of features, including migration, cloning and replication. Today, Acronis solutions are available worldwide through a global network of service providers, distributors and cloud resellers.
About Vodien
Established since 2002, Vodien is Singapore's leading 24/7 managed hosting provider. Well-known for providing consistently secure hosting service at blazing fast speeds, Vodien offers a wide range of hosting solutions for personal and business needs. Their award-winning services include web hosting, email hosting, dedicated and virtual server hosting, domain name registration and cloud backup services. To get in touch with their SuperSupport team, contact them via email: sales@vodien.com, chat: www.vodien.com or 24/7 Hotline: +65 6288 6264.
Source: Vodien Internet Solutions
Share:
---
Categories: Cloud computing, Web Services, Internet
Tags: data backup solutions, data protection, disaster recovery, singapore web host, web hosting singapore
---