VOCIER Launches Avant With InterlinkTM -- the World's First Configurable Luggage System Utilizing Magnetic-Mechanical Latching Technology
Press Release
•
updated: Jan 10, 2019
The creator of the World's most award-winning luggage announces a revolutionary new product line for the new year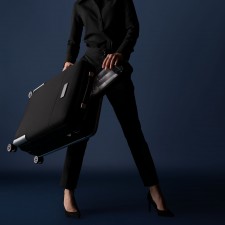 DUSSELDORF, Germany, January 10, 2019 (Newswire.com) - VOCIER, creator of the world's first patented Zero CreaseTM luggage system, announced today the pre-order launch of a brand new product line just as the new year kicks off. Known as Avant, it is the world's first configurable, modular luggage system and it features revolutionary new InterlinkTM technology. Taking the next step in brand development, VOCIER pursues a sleeker, minimalist look, while continuing to offer wrinkle-free packing, premium materials, high-quality construction, and unmatched style that customers have come to expect from VOCIER.
"We may be traveling in a new direction, but VOCIER is staying true to the journey," says Vinzent Wuttke, the company's co-founder and CFO.
The new product line features a centerpiece four-wheel carry-on suitcase (complete with VOCIER's signature Zero CreaseTM luggage system), which seamlessly connects with the other new products through new InterlinkTM technology, a secure mechanical latching mechanism that also uses high-power magnets. Other new Avant pieces include a briefcase, holdall, and the world's first-ever work bag designed especially for professional women. Updated Dopp kits, travel wallets, and a passport cover round out the line.
"Our customer is a true professional who is proud to live a lifestyle that reflects their success. They love travel as much as style, and this new line reflects that," remarks Michael Kogelnik, co-founder, lead designer and CEO for VOCIER. "VOCIER is equal parts design and function, and we pursue the highest levels in both."

VOCIER's timeless, elegant design meets the needs of discerning travelers while innovative features make the whole collection as functional as it is stylish. Highlights of the collection include the patented and award-winning Zero CreaseTM and Fast PassTM systems; a full-width magnesium handlebar -- the first-ever use of magnesium in luggage; a thermoplastic hybrid shell construction offering all the protection of a hardshell with the lightweight flexibility of a softshell; a proprietary, durable ballistic nylon mesh fabric that repels both water and dust; and four 2-wheel spinner wheels with maintenance-free Inox steel bearings. Combined, the new technical advances make the Avant line the lightest, roomiest, and most innovative luggage commercially available.
As always, all VOCIER products come with an industry-leading limited lifetime warranty and a 100-day return policy. Now available for pre-order on VOCIER.com, the new Avant line will begin shipping in the late February.
About VOCIER
Germany-based VOCIER designs and manufactures the finest luggage systems and travel accessories in the world. Designed without compromise for discerning global travelers, VOCIER products blend style with optimum functionality and uncompromising quality.
VOCIER patented the world's first Zero CreaseTM carry-on and has gone on to be the most-awarded luggage system in history, including the prestigious Red Dot Design, iF Design, Richard Dyson Design, and German Design (Gold) awards. Elegant, timeless, and ingeniously engineered, the entire luggage range is made using only the world's finest materials, including hand-selected Italian leather, the highest-quality metal YKK Excella zippers, and fiber-injected BASF plastics.
Conceived out of a passion for traveling means VOCIER is more than just a product company: we continue to build a global community of like-minded individuals that enjoy the art of traveling well.
For more information, visit VOCIER.com and connect with us on Facebook.com/VOCIER and Instagram.com/VOCIER.

Media Contact:
Emerald Stocker
TRUE Communications for VOCIER
emerald@truecommunications.com
Source: VOCIER