VMS BioMarketing Clinical Nurse Educators Will Provide Education to Support Needs of Women With Breast Cancer
Press Release
-
updated: Oct 11, 2017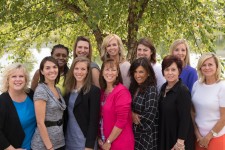 INDIANAPOLIS, October 11, 2017 (Newswire.com) - VMS BioMarketing, a leading provider of patient support solutions, has announced the development of a nationwide oncology Clinical Nurse Educator (CNE) network, which will launch this week. The VMS CNEs will address a growing need for communication among health care professionals to enhance the patient care experience by delivering peer-to-peer education programs to physicians, nurses, office staff, and other health care professionals to help women who have been diagnosed and are being treated for breast cancer.
According to the American Cancer Society, breast cancer is the most common cancer in American women, except for skin cancers. An estimated 252,710 women will be diagnosed with breast cancer this year, and 40,610 will die of the disease. Currently, the average risk of a woman in the United States developing breast cancer sometime in her life is about 12 percent 1. 
"Women who are affected by this devastating disease need physical, psychological, and emotional support," said Chris Field, director of strategic account management at VMS BioMarketing. "VMS is very pleased to provide additional education for health care professionals about treatments for breast cancer to help health care professionals, patients, and caregivers better understand the disease. Education will include how medication works, how and when to take their medication, what side effects if any to expect and how to manage them in their daily life, and how to connect with support resources patients need."
The CNEs in the VMS oncology educator network are highly specialized leaders in their field, with both clinical expertise in caring for people with chronic and life-threatening diseases as well as extensive skills in patient and provider education. In September, the field-based CNE team visited VMS BioMarketing in Indianapolis for onboarding, followed by online seminars. 
"The launch of this Clinical Nurse Educator network is particularly timely, as October is Breast Cancer Awareness Month," said Field. "VMS urges women to get regular screenings to find breast cancer early." The American Cancer Society has screening guidelines for women at average risk of breast cancer and for those at higher-than-average risk for breast cancer at the following link. https://www.cancer.org/healthy/find-cancer-early/cancer-screening-guidelines/american-cancer-society-guidelines-for-the-early-detection-of-cancer.html ​
About VMS BioMarketing:
VMS BioMarketing is a leading provider of patient support solutions focused on empowering health care providers and patients through education, training, and ongoing health coaching. For more than 20 years, VMS has been dedicated to enabling Clinical Nurse Educators to provide the personalized support necessary to help patients successfully start and stay on therapy. VMS clients include the world's leading pharmaceutical and biotechnology companies. To learn more, please visit www.vmsbiomarketing.com.
Contact:
Abigail Mallon  
317-805-6600, Ext. 225
Abigail.Mallon@vmsbiomarketing.com
1American Cancer Society. https://www.cancer.org/cancer/breast-cancer/about/how-common-is-breast-cancer.html
Source: VMS BioMarketing
Share:
---
Categories: Business News, Pharmaceuticals and Biotech, Healthcare
Tags: Abigail Mallon, breast cancer, Chris Field, Clinical Nurse Educator, Nurse Educator, VMS BioMarketing
---