Vladislav Matveyev Discusses Politics With Ron Paul
Press Release
•
updated: May 31, 2017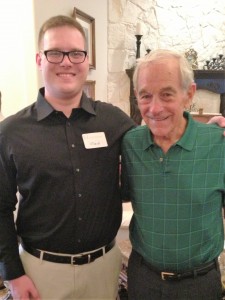 Phoenix, AZ, May 31, 2017 (Newswire.com) - In 2015, undergraduate student Vladislav Matveyev discussed with the former US Representative, Dr. Ron Paul, the current state of U.S-Russia relationship and the political crisis in Ukraine. During that time, Matveyev was receiving his Bachelor's degree in Political Science with focus on International studies.
The Russian issue is a complex one. Since the Cold War, international relations between the US and Russia have been fragile, to say the least, but they seem to have worsened over time, particularly since the Russian-Georgian war in 2008, the annexation of Crimea, and the war in Eastern Ukraine.
"We cannot solve all conflicts between the two nations, but we can prevent some of them by improving communication, building trust, and identifying common interests."

Vladislav Matveyev
"The whole crisis originates from the U.S.-backed overthrow of Viktor Yanukovych in 2014, Ukraine's constitutional and democratically elected President. The U.S.-backed regime that seized power in Ukraine as a result of this coup has pursued a militantly anti-Russian line, provoking the secession of Crimea and Russia's actions there."
For Matveyev, to be able to discuss this difficult subject with a politician like Ron Paul is a testament to how well he was doing in his studies and beyond. He felt his strong desire toward peacemaking between the two nations.
"…the idea that we should be talking and practicing diplomacy rather than threats and intimidation. There are obviously a lot of problems that we have to work out..."-www.zerohedge.com
This meeting inspired Vladislav to continue his education as he became interested in a role of conflict resolution skills in the international arena.
Currently, Matveyev is obtaining a Master of Science in Negotiation and Dispute Resolution at Creighton University, Werner Institute Creighton University.
"Creighton's Werner Institute is a leader in advancing the field of conflict resolution. With our Master of Science (MS) program, we are training a new generation of practitioners and scholars to take conflict resolution to a new level. Through intensive courses, conferences, and workshops, we provide cutting-edge approaches and techniques in negotiation, conflict management, mediation and dispute systems design."-creighton.edu
As part of his Master degree, however, Matveyev did not want to focus specifically on Russian-American geopolitical issues and what is essentially an internal political struggle between Democrats and Republicans, as well as some infighting within the Republican Party.
Rather, he aimed to delve deeper into the relationship between the people from these countries.
For this, he is working on gaining skills as a dialogue facilitator and mediator between English and Russian-speaking individuals, communities, and organizations, as well as learning how to develop a conflict resolution programming for individuals with Limited English and Russian Proficiencies. In a mediator role, Matveyev wants to help parties settle differences at the mediation table. Mediation and advocacy facilitate understanding of participants' concerns, interests, and negotiating behavior. Matveyev stated: "We cannot solve all conflicts between the two nations, but we can prevent some of them by improving communication, building trust, and identifying common interests."
Source: Vladislav Matveyev
Related Media