Vladimir Kush Unveils His Latest Painting 'Forest Can-Can'
Press Release
•
Sep 27, 2023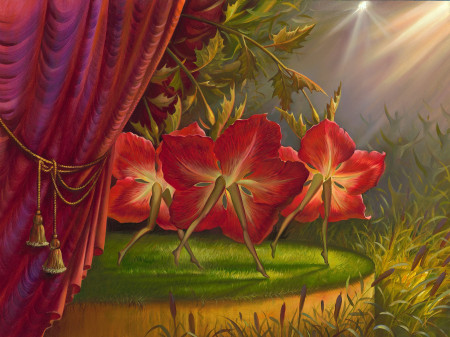 LAS VEGAS, September 27, 2023 (Newswire.com) - World-renowned artist Vladimir Kush unveils his new masterpiece "Forest Can-Can" (Oil on Board 12 x 16 inches). This new artwork is also available in a Limited Edition Print on Canvas (15 x 20 inches).
In Paris, Can-Can dance is traditionally associated with a chorus line of female dancers, with vigorous manipulation of skirts. The fully open flowers symbolize the full emotions, candid and revealing dance expressed in the movement of the flowers.
The Waltz of the Flowers comes from the second act of the evergreen ballet The Nutcracker. In one of the whimsical moments in Tchaikovsky's well-loved ballet, a string of beautiful flowers performs a dance. The mesmerizing music revives the hope that love, joy and happiness will be accompanying us for a long while.
In Ancient Greece, the Three Graces represented everything that constituted the beauty and the attractiveness of life. They often escorted the winged god, Amour. They were invited to the beginnings of all celebrations so that they would bring festivity to those present. Presented onstage is the conciseness of inspiration, it is the moment of a successful performance.
The symbolism in Kush's new painting can also be related to some of his previous artworks such as: "Purple Dancers", "Three Graces", and his bronze sculptures: "Hibiscus Dancer" and "Flamenco Dancer." Kush's genre of art, known as Metaphorical Realism, implies the possibility of truthful depiction of the material world and combines with it his own vision of cultural world traditions and mythology.
For more information, visit Kush Fine Art Galleries in Las Vegas, Laguna Beach, and Miami Beach. When you visit Kush Fine Art, you will be served with warmth and an eye for your unique style as you seek the perfect piece to add to your collection. Contact Kush Fine Art at www.kushfineart.com or email at info@kushfineart.com and follow Kush and all of the latest news on Facebook, Instagram, X and Threads.
Source: Kush Fine Art