Vividlite Wireless LED Company Announces Debut of ShadowBox!
Press Release
•
Apr 21, 2016
ShadowBox is a rechargeable wireless LED smart lamp packed full of features and the power found in event lighting, streamlined into portable and magnetic lamps with the ability to go anywhere and capable of long range phone/device app-control.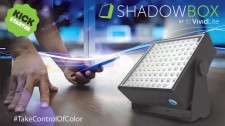 San Juan Capistrano, California, April 21, 2016 (Newswire.com) - ​​Vividlite Wireless LED company is proud to announce the Kickstarter release of their latest product, ShadowBox.
ShadowBox is an all-purpose, battery powered, color adjustable, wireless LED smart lamp that has the quality necessary for average run times between 8 and 12 hours between recharges.
We've designed our rewards packages and shipping timelines based on very conservative estimates. There are always a few things that are out of our control such as customs, port strikes, delays due to severe weather condition and/or other unforeseen issues. Either way, we guarantee that you will receive an extremely high quality product and we will be in constant communication with updates regarding progress or changes. We always strive to exceed expectations. We appreciate all of our customers!

Chris Stahel, CEO
ShadowBox is compact enough for a backpack or can be contained in a 2-light or 6-light hard-shell carrying case. The lamp is a perfect white light when needed for desk work, auto repair, or a simple bright work light as well as a wonderful addition to any social gathering or party with its color control, fades, flashes, strobes, music mode and more.
Designed into an extremely portable and functional enclosure, ShadowBox is a light that handles a variety of lighting needs. It has black and white coating options for its water-resistant, polycarbonate body as well as a 360-degree rotating base, an easy on/off button, and magnetic strips that allow for easy placement practically anywhere.
ShadowBox can be controlled through either a customized infrared remote or via a user-friendly, Apple/Android App. It allows users to name groups, select color schemes, and a microphone function allows light to rhythmically change with TV/movie/game sound, beats, vocals or music. App to lamp communication is made easy through a long range radio frequency transmitter, ShadowHub.
The ShadowHub radio transmitter allows control from 1-30 lights, grouping them together or operating them individually. ShadowHub broadcasts its own WiFi network to which a smart phone or tablet can be connected. Commands are sent to ShadowBox over a 2.4 GHz radio signal at a range of over 500ft in all directions (open space). ShadowHub can be magnetically mounted, run on AA batteries or through a USB-AC adapter, and is also networkable to an existing WiFi network.
Vividlite brings professional grade lighting to these new streamlined lamps. After working with companies like Nike, The Cosmopolitan (Vegas), Francis Coppola Winery, Vans, Radisson hotels, The Smithsonian and the TV show, "Bar Rescue," owners and operators Chris Stahel and Ken Wu have put their hearts and souls into bringing an event-size quality product to each individual customer and their home or workspace. The objective and their mantra is: "Take Control of Color."
This Kickstarter campaign will help support the production of ShadowBox and allow more exposure for the product and all of the amazing lighting techniques it can execute.
Source: Vividlite Wireless LED
Related Media
Additional Links