Vitruvien Launches the Yosemite Summer Collection
Vitruvien launches its first "Breaking Away" series of tailored shirts - a summer inspired collection of prints and checks.
Press Release
-
updated: Jul 13, 2018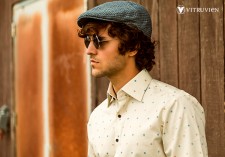 NEW YORK, July 13, 2018 (Newswire.com) - In today's times, an individual's work life revolves around boardrooms, deadlines, and number crunching. It is no surprise that now and then one can find himself wanting to break away from the monotony of it all.
This is the very thought that inspired Vitruvien.com to launch its very first "Breaking Away" series of tailored shirts for men – a summer- inspired collection of prints and checks that can inspire audiences to leave behind the humdrum of daily life and plan their next getaway. To that, what better getaway than the Yosemite National Park, a place where one can lose themselves in the sheer beauty of jade landscapes, cascading waterfalls and endless groves of trees.
The "Yosemite Collection" is also portrayed through a film about the Vitruvien Man who has put his life on pause, heading for a journey and hoping to come back with a renewed zest for life. The film beautifully captures the many shades of Yosemite - how it comes alive on a sunny day or broods like a beauty under the canopy of dark clouds. From cheery yellows to brooding greys, from shy pinks to serene blues, all the colors in the collection capture the many moods of a man undergoing a process of rejuvenation in the midst of nature. The collection also showcases a range of fabrics perfect for the American summer, the luxurious Egyptian Giza cotton for the pensive, nippy evenings by the fire or the airy linens for the hot summer day.  
We are very excited to unveil the Yosemite - Breaking Away Collection. This collection is a perfect blend of modern designs and subtle colors curated for a large segment of young men that are trendy, stylish and look for a comfortable but elegant look. These custom shirts are specially tailored with the finest fabrics and design excellence for the American market.
About Vitruvien.com
Vitruvien is a custom shirts brand which gives you the option to craft shirts that are styled by you and fitted uniquely to you, without compromising even an inch on quality. We cater to more than 15 countries across the globe and use the best quality fabric - Egyptian Giza Cotton and Belgian Linen. Our proprietary Body Measurement Wizard algorithm allows customers to purchase custom fitted shirts by providing three easy self-measurements with an accuracy of over 95%.
For media inquiries, contact us at marketing@vitruvien.com or call us at +91-22-24161402.
Source: Vitruvien
---
Categories: Fashion and Apparel, Fashion and Apparel Industry, Retail
Tags: casual shirts, check shirts, Custom Shirts, custom tailored shirts, customized shirts, Egyptian cotton shirt, linen shirts, tailor made shirts, Tailored Shirts for men, tailored shirts online
---