Vita Industrial Brings Intelligent Lift Stabilization and IoT (Internet of Things) to CONEXPO 2023
Press Release
•
Mar 16, 2023
Vita will announce its pilot program with DPR Construction which is working to improve worker safety through innovation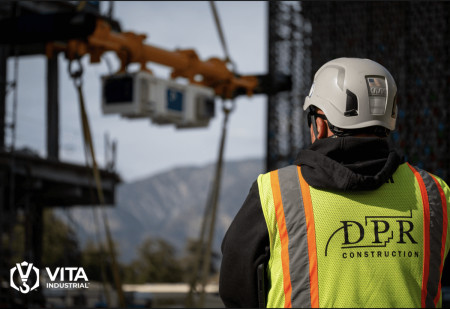 BROOMFIELD, Colo., March 16, 2023 (Newswire.com) - Vita Industrial will be an exhibitor at CONEXPO, taking place in Las Vegas from March 14-18, 2023, booth number F8552 in the Convention Center Festival Grounds
The company will emphasize how load stabilization technology can increase worker safety, project efficiency and profitability for lifting operations. It will also highlight its pilot partnership with DPR Construction and how the two companies are turning a century-old analog solution (taglines) into a real-time, intelligent data system.
Throughout CONEXPO, Vita Industrial will be holding live demonstrations of its Vita Load Navigator (VLN), which uses aviation sensors to detect load position, wind speed, and hundreds of other data points per second. High-powered air thrusters dynamically adjust loads within milliseconds with up to 1° accuracy. The unit can be controlled via remote for precision lifting. The company will show how the VLN can increase safety, efficiency, precision, and profitability.
"Vita Industrial is thrilled to be a part of the largest construction trade show in North America for the first time," said Caleb Carr, chairman and CEO of Vita Inclinata. "Construction companies and equipment suppliers worldwide are quickly learning how load stabilization can dramatically improve their lifting operations. The VLN can expand wind envelope charts, speed up construction schedules, and improve job site safety. We can't wait to show off the technology live in Las Vegas."
Vita Industrial & DPR Construction Pilot Program
At CONEXPO, Vita Industrial will also highlight its work with DPR Construction, a leading U.S.-based general contractor with operations worldwide. In recent months, DPR and Vita have partnered in a pilot program of Vita's innovative hardware and software solutions at a Southern California project site.
"Many of the tools of the construction industry trade haven't evolved in decades," said Henning Roedel, DPR's robotics lead. "DPR looks for opportunities to adapt and use those tools in different ways to foster innovation. We like to work with companies that can think bigger — like Vita Industrial has done here — and bring innovation that improves safety and efficiency in construction sites everywhere."
DPR has more than 5,000 employees in the skilled trades and a dedicated innovation team that looks for solutions that can contribute to bringing the company's employees home safely every day — a core value of Vita Industrial.
"We're excited at the potential of adding Vita's intelligent lifting system to our list of advanced solutions," Roedel said. "Together we are taking an analog solution — the tagline — and making it a real-time, intelligent data system that significantly improves efficiency and profitability for crane companies."
To download the full Vita Industrial CONEXPO Press Kit, please click here.
About Vita Inclinata
A friend's death during a rescue operation — with a helicopter close but unable to stabilize due to weather and terrain — was the genesis of Vita Inclinata. Founded in 2015 as a way to solve a real problem, Vita today controls chaotic swinging and spin and adds safety and precision for rotor-wing and fixed-wing aircraft and cranes. For more information, please visit www.vitaindustrial.co.
Source: Vita Industrial
Tags