Vista Social Leads the Way as the First SMM Tool to Integrate Canva's AI Image Generator
Press Release
•
Mar 28, 2023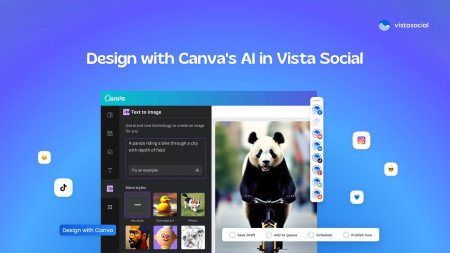 NEW YORK, March 28, 2023 (Newswire.com) - Vista Social, the leading social media marketing platform, announced today that it has launched a powerful new feature - Canva's AI Text to Image generator. With this new integration, Vista Social users can easily transform written text into visually appealing graphics, saving valuable time and effort when creating social media posts.
The AI Text to Image generator uses advanced machine learning algorithms to create high-quality, engaging images that resonate with audiences. By offering this feature directly from the Vista social dashboard, content creators, business owners, and agencies can streamline their social media marketing efforts and improve the quality of their content.
"We're excited to launch Canva's AI Text to Image generator in Vista Social," said Vitaly Veksler, CEO of Vista Social. "This feature will help our users create high-quality images that stand out on social media, while saving them time and effort in the process. We believe that this integration will be a valuable addition to our platform and look forward to seeing the amazing content our users will create."
Alongside the launch of Canva's AI Text to Image generator, Vista Social made headlines in early Q1 2023 by becoming the first social media marketing platform to integrate ChatGPT technology into their AI assistant. This powerful feature helps users create engaging captions for their social media posts and responses for their messages, comments, and mentions - further streamlining their social media marketing efforts. The integration of both Canva's AI Text to Image generator and ChatGPT technology marks significant milestones in the social media marketing industry, further solidifying Vista Social's position as a leader in the field.
About Vista Social
Vista Social is a modern social media management platform designed for social media as it exists today, not for social media of the last decade. They have a suite of powerful products for publishing, engagement, analytics, listening, and reviews.
Whether a user is a small business, marketing agency, or enterprise—or even just an individual user—Vista Social has features for seamless social media management. Their powerful suite of features helps schedule social media posts, curate relevant content, measure your social media marketing return on investment (ROI), manage internal and external teams, and more.
For more information about Vista Social, please visit https://vistasocial.com.
Source: Vista Social